Some retailers have begun accepting pre-orders for the upcoming AMD EPYC Milan-X server processors. This was noticed by a vigilant Twitter user with the pseudonym @momomo_us. The price range for new items varies from 4290 to 9609 US dollars.
AMD EPYC Milan-X server chips are AMD's first series of processors with 3D V-Cache memory, increasing L3 cache to 768MB. This is three times more than conventional EPYC Milan 7003 series. As tests of new processors conducted by Microsoft showed, the benefits of 3D V-Cache memory are not visible in all cases. AMD itself stated that EPYC Milan-X will be able to offer up to 50% higher performance, but only in "under certain loads." In other words, the benefit of the increased L3 cache will only be seen in tasks that rely heavily on the efficiency of processor caches. Detailed characteristics of AMD Milan-X chips at their announcement did not share, although she talked about the innovative technology for increasing the L3 cache, as well as the number of available cores.
The flagship 64-core model EPYC 7773X of the Milan-X series is available for pre-orders for $9609. For comparison, the same seller sells the EPYC 7763 model without additional cache for $8616. The EPYC 7573X model with 32 cores on board is priced at $6107, while the previous EPYC 7543 model is selling for $4139.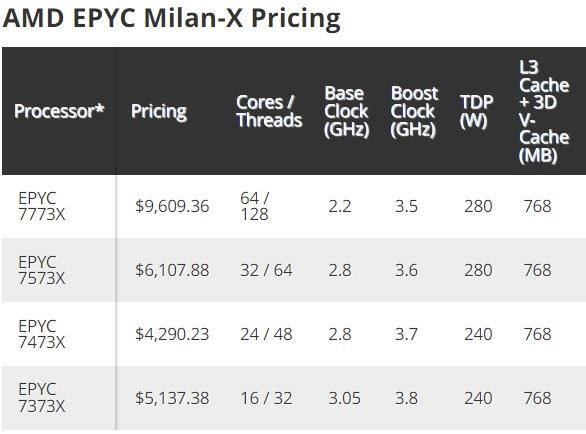 The 24-core EPYC 7473X and 16-core EPYC 7373X are listed at $4,290 and $5,137 respectively. But, apparently, this is a simple mistake of the seller. For comparison, the current EPYC 7443 and EPYC 7343 are offered by the same retailer for $2,231 and $1,738, respectively.
AMD has promised to release new EPYC Milan-X server processors in the second quarter of this year.