Chinese brand Higole has launched an Indiegogo campaign to raise money for the Gole1 Pro, a new pocket mini computer that runs Windows but is not too different from a smartphone.
The new model will receive a 5.5-inch touch screen and hardware that is enough to perform simple tasks. It will turn out to be a very good replacement for tablets or cheap laptops. An additional plus is the abundance of ports.
The novelty will receive two processor options: Intel Celeron N4000 with 2 cores and a frequency of 1.1 GHz or a more powerful Intel Celeron J4125 with 4 cores and a frequency of 2 GHz. There will also be 8 GB of LPDDR4X RAM, 128 GB of permanent memory, a 5.5-inch screen. We also note the presence of four USB 3.0 Type-A ports at once, one USB Type-C each, a 3.5 mm audio output and Gigabit Ethernet, as well as two HDMI 2.0 ports. In addition, there will be a microSD card reader (up to 256 GB). Support for Wi-Fi 5/6 and Bluetooth 5.0/5.2 is also promised.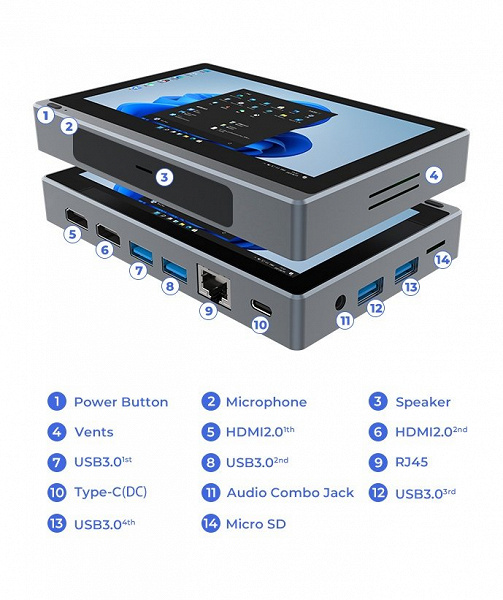 There is also a built-in microphone, speaker and a metal case. But there is no webcam. Support for up to two external 4K displays is announced, and Windows 11 is promised as the OS. Retail prices are expected to be $219 and $249 depending on the processor and wireless interfaces.
In 2020, the company is already released a full-fledged monoblock in a similar design.