The official premiere of the Nvidia Hopper architecture and GPUs based on it, which will form the basis of the Nvidia RTX 40 graphics cards, is expected in March. Perhaps in March the company will announce its top-end next-generation 3D card – the GeForce RTX 4090. While rumors attribute this model to 60-80% more performance than the GeForce RTX 3090. Some leaks even speak of a twofold difference in performance between the current flagship and GeForce RTX 4090 in games.
It is still impossible to confirm or deny these data. But what if a performance gain of 60-80% does happen, then what will the new product be able to demonstrate in games? One of the users seriously asked this question, as a result of which a prediction of the performance of the GeForce RTX 4090 in games, created based on the performance data of the current flagships of AMD and Nvidia, appeared.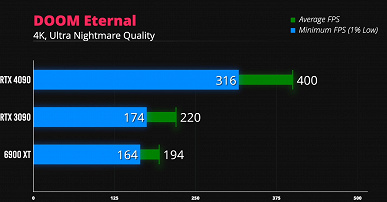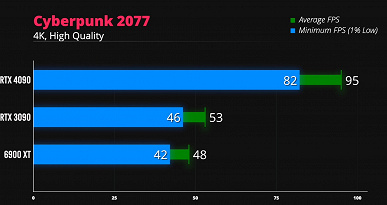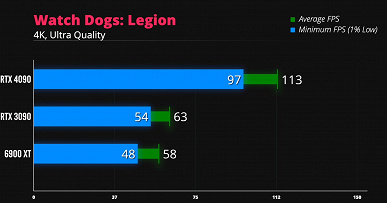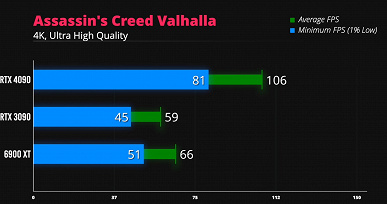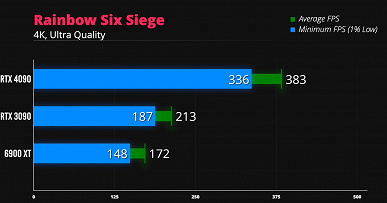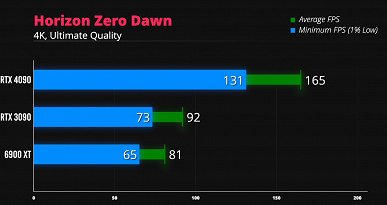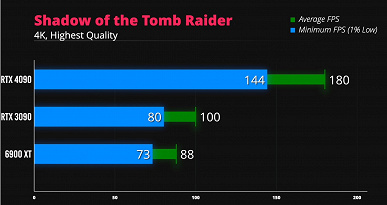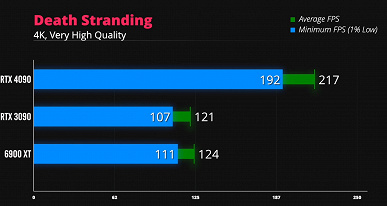 In Doom Ethernal, at ultra settings and 4K resolution, the GeForce RTX 4090 will be able to demonstrate 400 fps – about 80% more than the GeForce RTX 3090 (220 fps) and more than 105% more than the Radeon RX 6900 XT (194 fps). Cyberpunk 2077, which has stumbled over the top-end graphics cards of the current generation, will not be a problem for the GeForce RTX 4090. With 4K resolution and high quality graphics, you can count on 95 fps. For comparison, the RTX 3090 has 53 fps, while the Radeon RX 6900 XT has 48 fps. 18,432 CUDA cores in the GeForce RTX 4090 GPU will be able to demonstrate 106 fps in Assassin's Creed Valhalla at 4K resolution and ultra graphics settings. And if you lower the monitor resolution to 1440p, then the frame rate will be 151 fps. At the same resolution, the frame rate in Shadow of the Tomb Rider and Death Stranding will exceed 300 fps.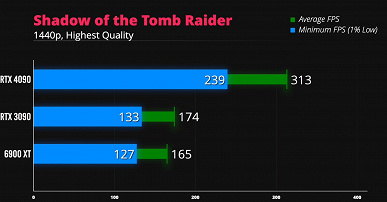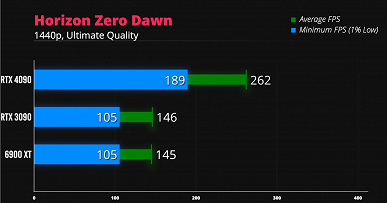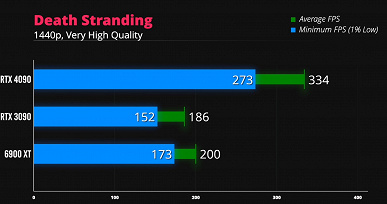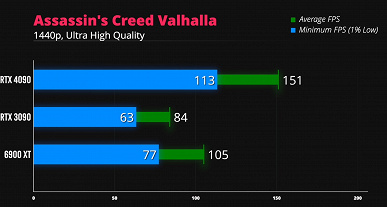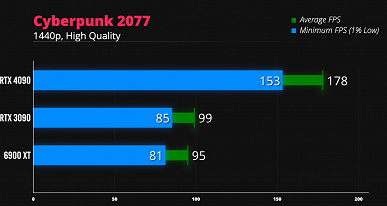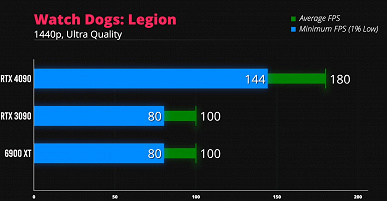 In general, a preliminary calculation shows that the GeForce RTX 3090 will turn out to be a real monster of gaming performance, which will simply destroy the Radeon RX 6900 XT and GeForce RTX 3090 in games. It remains only to wait for confirmation of the characteristics of the new flagship Nvidia.
.