Vision Research has announced the Phantom S991 high-speed camera. This dedicated camera is capable of shooting video at 4096 x 2304 pixels at 937 fps. Note that this uses an 8-bit color representation. If you select 12-bit, the frequency drops to 625 fps. Like other Phantom cameras, the S991 allows for higher frame rates at the cost of lower resolution.
So, when the resolution is reduced to 3072 x 2000 pixels, the camera shoots at a frequency of 1075 fps. At a resolution of 1280 x 800 pixels, the frequency increases to 2635 fps. Reducing the resolution to 1024 x 512 pixels makes it possible to raise the frequency to 4035 fps. The maximum frame rate of 47,550 fps using the global shutter is obtained when shooting at a resolution of 2304 x 16 pixels. The rolling shutter allows you to get a frequency of up to 52,080 fps.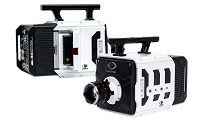 Data output uses two fiber optic cable outputs and CoaXPress-over-Fiber (CXFPoF) technology to achieve a throughput of 70 Gbps. This is an important change from the previous S990, which required 16 copper cables to achieve maximum throughput.
Light sensitivity reaches ISO 1600 for monochrome shooting and ISO 400 for color shooting. Interchangeable mounts make the Phantom S991 compatible with Nikon F, EOS, C, M42 and PL lenses. The camera weighs 3.2 kg. It is equipped with an active cooling system. The manufacturer reports the price of the camera upon request.