It looks like AMD is preparing a more powerful graphics card than the RX 7900 XTX. A lot of unannounced new products from the company have appeared in the EEC database, and the RX 7950 XT leads them.
At the same time, there is no RX 7950 XTX model, so perhaps the first one will eventually become the oldest solution in the current line. What this card will be is still completely unclear, but now there is a lot of discussion on the web about some hardware problems that the Navi 31 GPU has, which is why the performance of the RX 7900 is lower than it could be, and that AMD can fix this by releasing updated adapters later next year.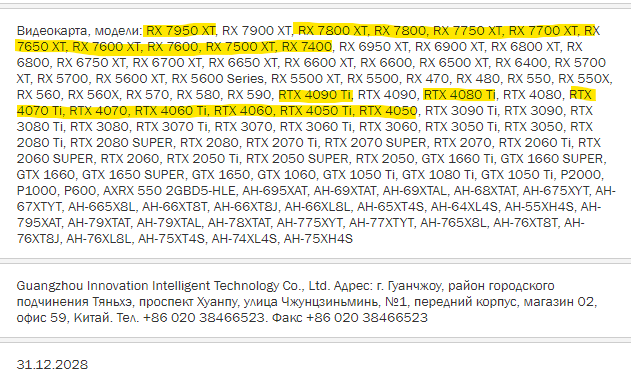 Also in the EEC list you can see RX 7800 XT, RX 7800, RX 7750 XT, RX 7700 XT, RX 7650 XT, RX 7600 XT, RX 7600, RX 7500 XT, RX 7400. That is, exactly the same models that are now available in the RX 6000 line. Including the younger RX 7500 XT and RX 7400. In the last generation, AMD also offered the market budget models, while Nvidia did not release anything under the $250 RTX 3050. As you can see, this time AMD will again not leave budget gamers without an update.