The OnePlus 11 smartphone will certainly be very productive, as it will receive a Snapdragon 8 Gen 2 SoC. But new data indicates exactly how productive it will be.
A screenshot from AnTuTu 9 has appeared on the Web, where it can be seen that the new OnePlus is gaining more than 1.34 million points. By comparison, the Snapdragon 8 Gen 1 OnePlus 10 Pro scores around 995,000 points.
Moreover, we can compare the results in more detail. For example, the result of the CPU of the new platform is about 295,000 points, while the old one is about 225,000 points. The GPU results are around 575,000 and around 440,000 points, respectively. That is, the increase is approximately 30% in each case.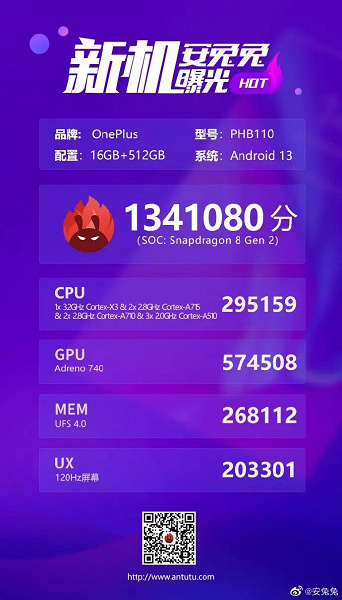 Recall that the new flagship OnePlus is credited with a ceramic body, a 5000 mAh battery with 100-watt charging and a 50-megapixel camera based on the Sony IMX890. The announcement of the global version is expected on February 7th.