Nvidia company introduced today the first video cards of the GeForce RTX 40 line. At the same time, she also announced DLSS 3 supersampling technology, and it is worth talking about it in more detail, besides, the company itself calls the technology a revolutionary breakthrough in AI-based graphics.
The essence of the technology remains the same: thanks to special tensor cores in the GPU of video cards and a special AI-based algorithm, the video card completes parts of the image, taking a lower-resolution image as a basis and increasing it to the required one. But in DLSS 3, one important feature has changed. Now the technology adds optical multi-frame generation to create completely new frames. That is, if earlier DLSS drew individual pixels, now we are talking about entire frames. Naturally, this greatly reduces the load on the GPU, and Nvidia itself says that activating DLSS 3 allows you to increase performance by two to four times or even more!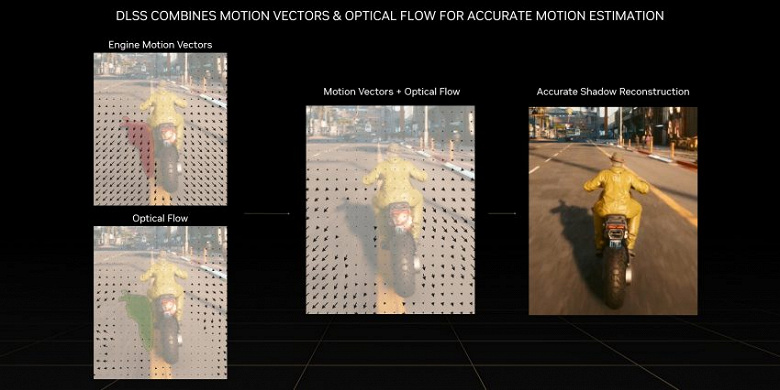 For example, in Cyberpunk 2077, an unknown video card with unknown quality settings produces 20-22 fps with ray tracing enabled, and when DLSS 3 is activated, the performance increases to 96-100 fps!
At the same time, DLSS 3 includes Nvidia Reflex technology, which reduces latency at the same time.
DLSS 3 will be available in October in 35 games and more:
Destroy All Humans! 2 – Reprobed
FIST: Forged In Shadow Torch
Jurassic World Evolution 2
Microsoft Flight Simulator
Mount & Blade II: Banner Lord
STALKER 2: Heart of Chornobyl
The Lord of the Rings: Gollum
Warhammer 40,000: Darktide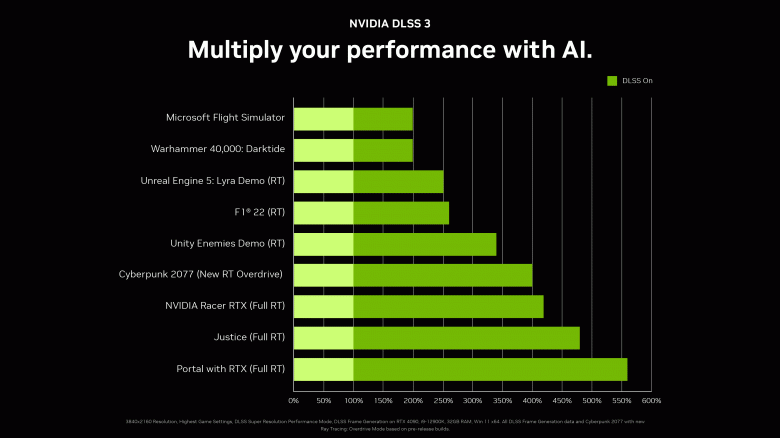 According to Nvidia's press release, the new technology will only work on new RTX 40 graphics cards, although the company did not directly talk about the impossibility of running DLSS 3 on older cards.