Users on social networks noticed that some Russian bloggers began to write posts on VKontakte that VPN services were dangerous. The authors claim that when using a VPN, the battery on a smartphone runs out quickly, applications freeze, and free services steal and sell personal data.
"I was told that VPNs are not transparent at all, they sell and resell all the information that they can collect from the gadget", – Murad Ragimov notes, he has 92 thousand subscribers in VK.
The account with the long name "Blogger Dad of the Year 7 Days in Business" claims that cryptocurrencies are mined on phones. This account has 46,000 followers.
"Does the name Monero mean anything to you? This crypt is mined by scammers on the gadgets of those people who install VPNs for themselves, "the entry says.
And the Annette Merkulova EXPERT Blog account, which has over 200,000 readers, claims that a VPN app can steal bank card details. The author also writes that it was because of the VPN that she "ran out of unlimited Internet traffic." The post was later removed.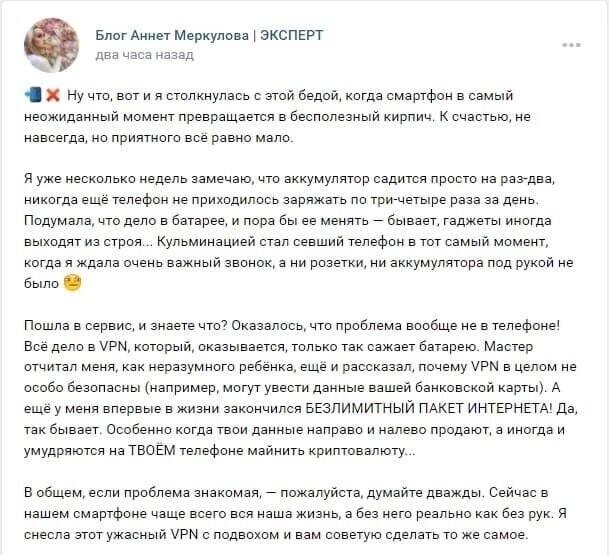 In addition, a few days ago in the Civic Chamber of Russia explainedwhy VPN services are dangerous.
"Thanks to a VPN, users have the ability to remotely access restricted resources, as well as mask their traffic and activities on the Web. Therefore, such services are popular with various dubious personalities seeking to hide their illegal activities. For example, on the dark web, which can only be accessed with a VPN, fraud, drug trafficking, the slave trade and terrorism thrive.", – said Alexander Malkevich, First Deputy Chairman of the Commission of the Civic Chamber of Russia on the Development of the Information Society, Mass Media and Mass Communications.
He also stated that the data of users who actively use the VPN can get to attackers.
"VPN services do not provide any guarantees for the protection and security of information. Users can be identified, and their personal data can be merged into the same darknet. Do not forget that many of these services earn not only by providing access to prohibited resources, but also by selling data to scammers", the expert explained.
He also said that the authorities need to improve the digital literacy of Russians.
"People need to develop a clear understanding of the real risks they are taking for a five minute feed on Instagram* or Facebook*. Short-term weakness can be very costly", – the expert believes.
Previously reported that, according to the expert, a virus-miner can get on the phone through a VPN.