New Delhi.
NHEV First Electric Highway Trial Delhi Jaipur: National Highways for Electric Vehicles this year, on the occasion of World EV Day 2022, started the trial run of the second and final phase of the Delhi to Jaipur e-highway, covering 278 kms of electric buses and cars in a month. Trial will be done with charger and technology fitted for the whole. Flagging off the trial run from India Gate, Abhijit Sinha, Project Director, NHEV, said that after the technical trials of the last 210 kms from Delhi to Agra, today this 278 kms of commercial trials will become the country's first 500 kms of electric highways. The way will be clear.
500 km electric highway
Let us tell you that under the National Highway for Electrical Vehicles (NHEV) pilot project, the first phase of 210 km of the country's first inter-state electric highway of 500 km from Delhi to Agra was completed in 2020-2021, the trial run of which was completed. It also started from India Gate in Delhi. This 500-km electric highway will pass through Uttar Pradesh, Delhi, Haryana, and Rajasthan, for which 20 charging stations and 10 infra depots are to be built. In this trial, where the range and technical data of vehicles will be used to agree on the proposed places for them, while this trial, which lasts for 30 days, will show the performance of electric vehicles in real road conditions, time and time in critical conditions like jam and rain. The number of most relay trips in a month will also be worked out by ascertaining the range.
people will benefit greatly
The trial run of the second and final phase of the Delhi to Jaipur e-highway safeguards the interests of all levels of participants, including EV users – passengers of buses and electric cars, operators of station and cab services, station and infra Investors, banks, state and central government are the main ones. In the last trial, it was ensured that electric vehicles get emergency technical assistance on the highway in 30 minutes, vehicle operators will be able to buy vehicles at 30% less cost and in 3 years recover the cost of infra installed in the charging station, which is today in this trial. can be seen practically.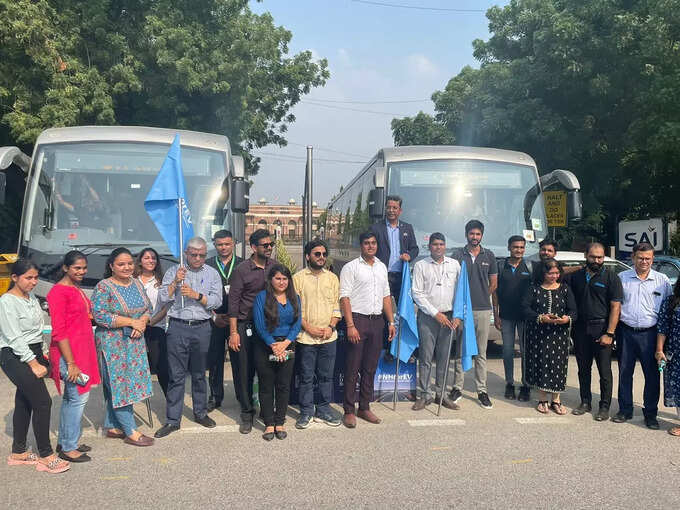 What Abhijit Sinha said…
Abhijeet Sinha, Project Director, NHEV said that this is one of the major initiatives in the EV mobility sector of the country. Any technology can be considered successful only as long as it is financially helpful for common people and society. This trial run is not only on the feasibility of the EV, but it will also act as a framework to explain it in simple language to the common people. This trial will also help eliminate any glitches. Electric vehicles need to become a common man's vehicle to meet our set target of carbon neutrality in our country by 2070.