Xiaomi has released a special mechanical mop called Xiaomi MIJIA dual-brush wireless mopping machine. Equipped with two brushes, it offers a new way to clean your floor.
The front brush washes away dirt from the front, while the rear brush wipes away stains from the back, thus enhancing the cleaning efficiency of the user. The built-in motor makes it easy to move the mop.
In addition, the device can clean the brush with water in real time to keep it clean during use. Once cleaning is complete, all the user has to do is put the brush back on the base and turn on assisted cleaning with a single button. This reduces the frequency of brush maintenance.
When cleaning under a sofa or bed, the mop can be adjusted so that it takes a horizontal position with a thickness of only 13 cm. The mop can be left upright at any time. The motor stops automatically when the water runs out or the degree of soiling of the mop is too high. In this case, the mop will beep to remind you to clean.
The battery lasts for 35 minutes of work. The mop is equipped with a built-in 420 ml water tank and a 200 ml waste water tank.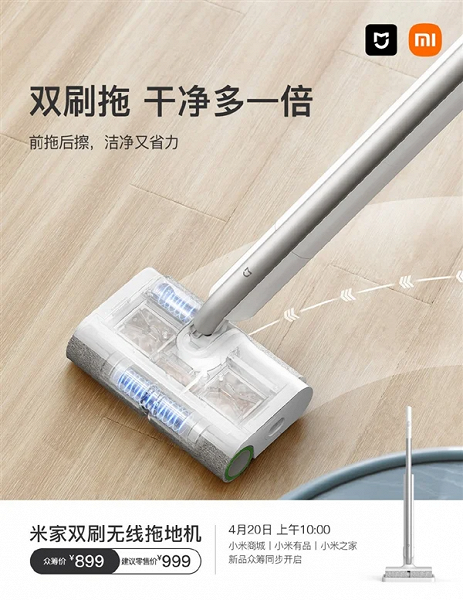 The mop is offered in China for $140.