Counterpoint analysts have published statistics on single-chip systems for smartphones in the global market and in China in the second quarter of 2022. According to these data, the leader of both markets is MediaTek.
The Taiwanese company secured 39% of the global market and 42% of the market in China. Analysts note that key smartphone manufacturers from the Middle Kingdom – Oppo, Vivo and Xiaomi – over the past three years have begun to use MediaTek SoC in their devices more often.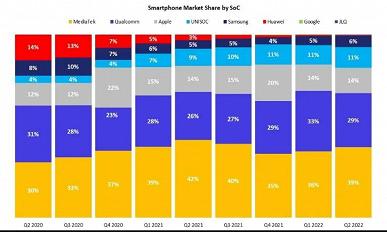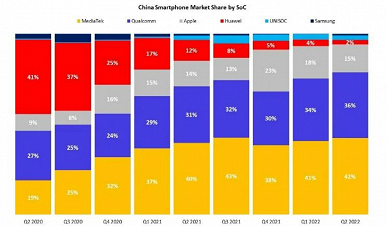 In the global market in the second quarter of 2022, MediaTek significantly strengthened its position: the share increased from 36% to 39%, while the share of the main competitor, Qualcomm, decreased from 33% to 29%. The market shares of Apple and Unisoc have not changed, and Samsung was even able to add, but only by 1%.