The launch is scheduled for June next year in Uzbekistan.
World's first small satellite formation flight
A virtual diagram of the 4th formation flight of the nanosatellite Toyosat scheduled to be launched in June next year by the Korea Astronomy and Space Science Institute. Provided by the Korea Astronomy and Space Science Institute
The Korea Astronomy and Space Science Institute (Astronomical Institute) announced on the 15th that "Next year, four nanosatellites will be launched to make the world's first formation flight and observe the weather in space." On this day, Cheonmunyeon first unveiled its nano-satellite Toyosat flight model. Toyosat is composed of four nano-class satellites weighing less than 10 kg, and the four are scheduled to fly together in a solar-synchronous orbit at an altitude of 500 km to observe changes in space weather.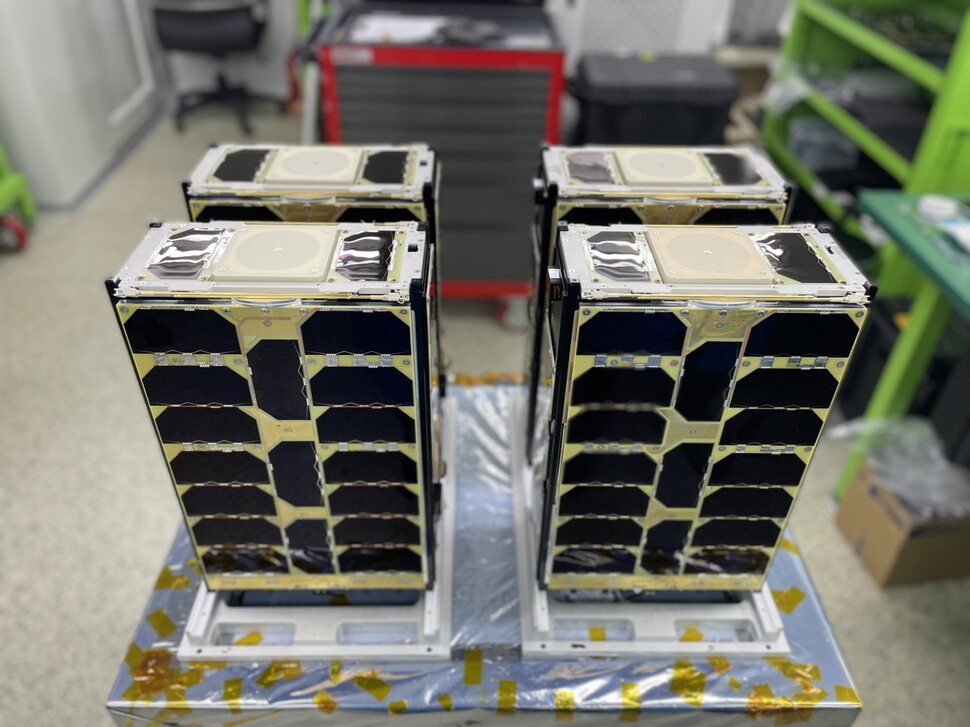 The 4th Toyosat nanosatellite unveiled by the Korea Astronomy and Space Science Institute on the 15th. Provided by the Korea Astronomy and Space Science Institute
The English abbreviation (SNIPE) for 'small-scale magnetosphere and ionospheric plasma experiments' means snipe, hence the name 'Toyosat', meaning a small but high-flying satellite, explained Chun Mun-yeon. Toyosat's scientific mission is to elucidate spatiotemporal changes in small-scale plasma structures in the ionosphere and magnetosphere. The Cheonmunyeon said, "It is the first time in the world to make a flight with a nano-class satellite." It controls the spacing between satellites during orbital flight, and both longitudinal flight in a row and lateral flight in parallel are possible. "Through formation flight, beyond the limit of observing only one satellite, it is possible to observe the spatiotemporal changes in the cosmic plasma distribution to a minute level, thereby contributing to the improvement of real-time prediction and analysis accuracy of the space environment, such as predicting cosmic storms caused by the solar wind in the future. " he added.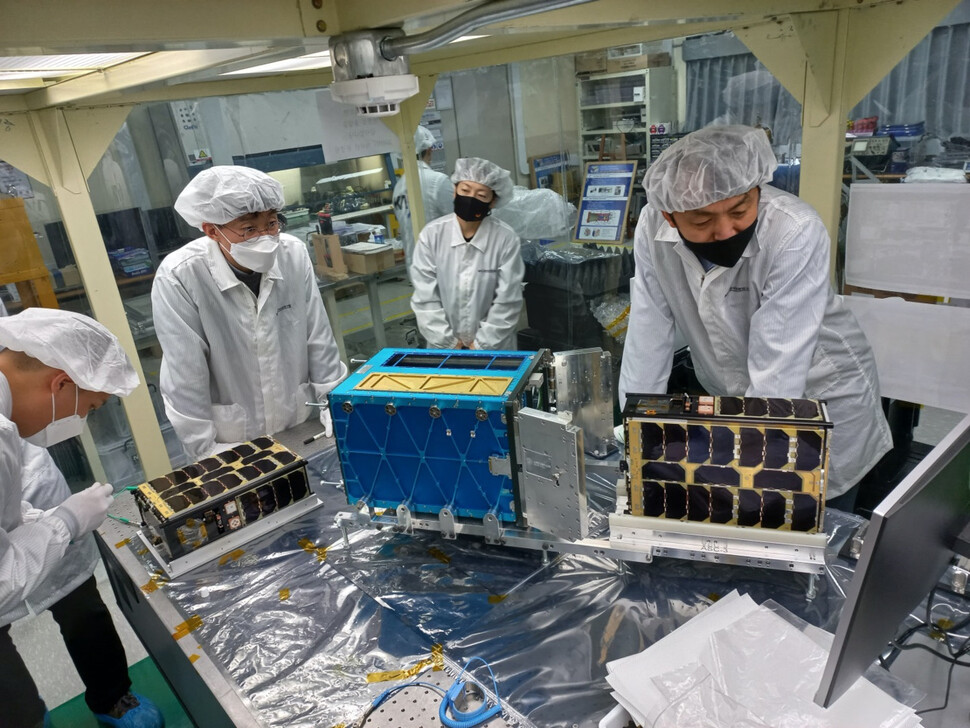 Researchers at the Korea Astronomy and Space Science Institute are installing and testing the launch tubes of the Toyosat Flight Model Units 3 and 4. Provided by the Korea Astronomy and Space Science Institute
Toyosat, which began development in 2017 and whose flight model was unveiled on the same day, is scheduled to be launched on a Russian Soyuz-2 rocket from the Baikonur launch site in Kazakhstan around June next year. The Toyosat project was supported by the Ministry of Science and ICT, and the Astronomical Institute led the project as the overall organization and developed the space environment observation payload. took charge Meanwhile, Cheonmunyeon will hold a public presentation of the Toyosat flight model for the general public on the 18th. Reporter Lee Geun-young [email protected]
.