Last week we wrote about an interesting feature discovered by overclocker Der8auer in motherboards based on the Intel Z690 chipset: it turned out that they allow you to overclock Alder Lake processors that are not marked with the K index (with a TDP of 65 W) using the BCLK OC function. As the same overclocker managed to find out now, BCLK OC is also supported by more affordable motherboards based on the Intel B660 chipset. And that's great news for those who are considering switching to a new system, but don't want to pay exorbitant prices for a motherboard based on a new chipset.
Der8auer bought Asus ROG Strix B660-I and ROG Strix B660-F motherboards and both were found to feature BCLK OC. True, here the overclocking process is implemented differently – more complicated, but in the video the overclocker gives detailed instructions on how to make everything work.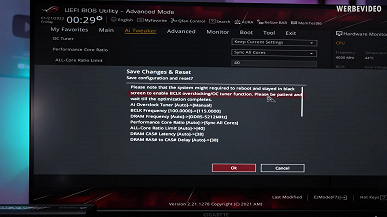 And one more thing to consider: BCLK OC only works in motherboards based on the B660 chipset with support for DDR5 RAM. Given its current cost, this is a significant minus, but nothing can be done about it.
In terms of overclocking efficiency, the B660 motherboard is almost as efficient as the one based on the Z690: the Core i5-12400 managed to overclock to 5.0 GHz with all active cores. The overclocked CPU demonstrated performance in Cinebench R20 at the level of the 8-core Ryzen 7 5800X. At the same time, the maximum temperature was 93 ° C, power consumption – 117 watts.