The Rostec State Corporation presented the upgraded Mi-8MTV-1, adapted specifically to the requirements of the Russian Emergencies Ministry. The department will receive the first five helicopters by the end of 2022.
The Mi-8MTV-1 has had its avionics completely replaced and a new flight and navigation system installed. Thanks to the automation of all flight modes and the creation of a digital information field about the spatial position of the machine, the capabilities of the helicopter, which is ready to perform the most complex tasks, have been significantly expanded. The changes significantly reduce the workload for the crew and ensure a high level of flight safety.
Pilots can use night vision goggles, which significantly increases the efficiency of search and rescue operations at night and in low visibility conditions. The helicopters are equipped with an external suspension for the transportation of bulky cargo weighing up to 4 tons. In addition, for rescue operations, rotorcraft are equipped with a winch with a lifting capacity of 300 kg.
The versatility of the Mi-8MTV-1 has also been expanded through the installation of two additional internal fuel tanks and the use of a video surveillance system, which provides greater safety when working with an external load and parachuteless landing.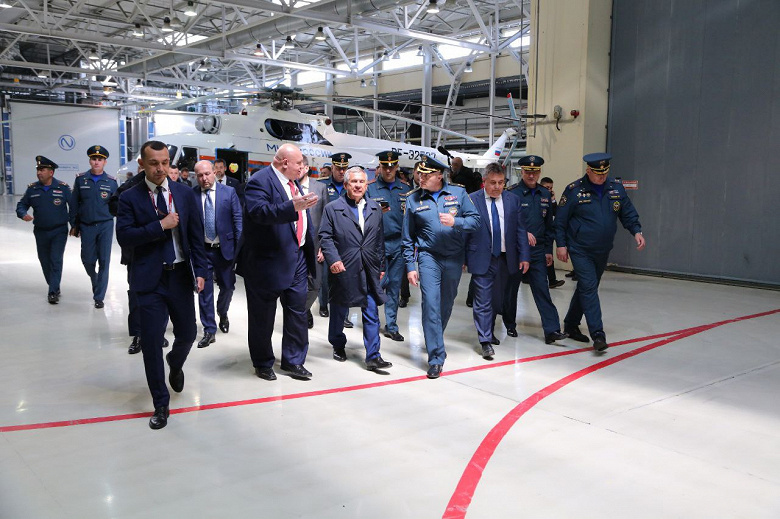 The modernization of the multi-purpose Mi-8MTV-1 was carried out taking into account many years of experience in operating our helicopters in the Russian Emergencies Ministry. More than 40 changes were introduced into the basic appearance of the Mi-8. Including work on import substitution of the auxiliary power unit. This made it possible to increase the time for performing operations with a long autonomous helicopter base from 30 minutes to 5 hours. Under a contract with the Russian Emergencies Ministry, the delivery of five vehicles is planned by the end of 2023. Three helicopters are ready for transfer, one more will be produced before December of this year.
Anatoly Serdyukov, Industrial Director of the Aviation Cluster of Rostec State Corporation.