Microsoft has announced a new feature in the Edge browser that will make it easier for people with visual impairments to interact with web content. We are talking about the automatic generation of image descriptions, which will be useful for visually impaired people who use screen readers to work on a computer.
Simply put, Edge can now automatically generate a description of the opened image, and the screen reader will play this text to the user. The process of parsing and generating image descriptions uses the Azure Cognitive Services cloud service. When the browser finds an untagged image, it moves it to a Microsoft server for processing with the appropriate algorithm. The user does not need to make any effort to generate descriptions for images.
The new feature works with many common formats including JPEG, PNG, GIF and WEBP. Descriptions are currently supported in five languages. At the same time, the algorithm used to generate the description is able to recognize text from images in more than 120 languages. Microsoft warns that description generation may not work perfectly at this stage, so in some cases the text is not of very high quality. In addition, descriptions will not be created for images smaller than 50×50 pixels, huge images, and content in some other categories.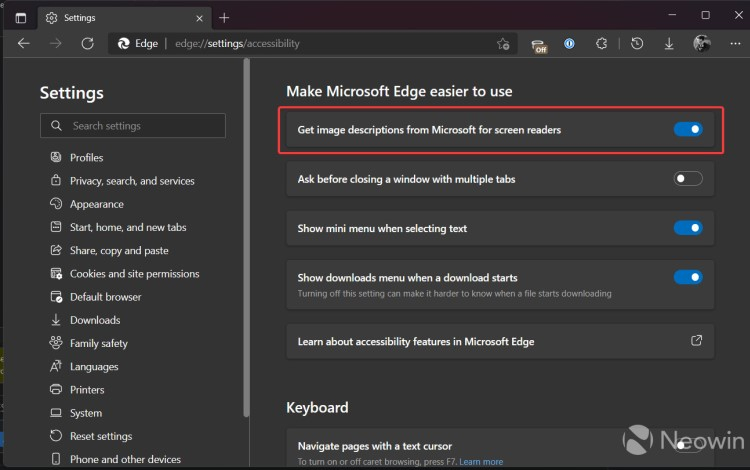 According to reports, the new feature has arrived in the latest version of Edge. To activate it, just go to the "Options" menu, go to the "Accessibility" section and activate the "Get image descriptions from Microsoft for screen readers" option. The feature is supported on Edge for Windows, Linux, and macOS.