New Delhi.
Mercedes Benz EQS 580 Price Features Range India: Mercedes-Benz has strengthened its position in the Indian electric car market and to give tough competition to other premium companies including Audi, Volvo, Jaguar and BMW in the EV segment, the new electric car Mercedes-Benz EQS 580 4Matic (Mercedes-Benz EQS 580 4Matic) ) is launched. With luxurious looks and premium features, this premium electric car with a range of 857 km per charge was launched at the Chakan plant in Pune and is Mercedes' first premium EV to be assembled in India.
Price Rs 1.55 crore
Mercedes-Benz EQS 580 4Matic has been introduced in the Indian market for Rs 1.55 crore (ex-showroom). It is cheaper than the Mercedes-AMG EQS 53 S that was launched a few days back. Also, Mercedes-Benz is cheaper than the S-Class car. The best thing about the EQS 580 is that it will be assembled in India. Earlier, EVs of Germany-based premium car company Mercedes-Benz used to come as a completely build unit. In terms of look and design, the Mercedes-Benz EQS 580 4MATIC is different from the EQS 53 launched in the past. It gets toned down front bumper, blanked out grille, 20-inch wheels with 5-spoke design. The wheelbase of this car is 3.2 meters.
plethora of features
Talking about the features of Mercedes Benz EQS 580 4MATIC, it has 3 joint screens connected by a glass panel, which is called HyperScreen. The coupe-style electric sedan gets a host of standard and safety features including a head-up display, 3D map, front seats with massage function, air filter, MBUX tablet for rear seat passenger, 9 airbags, lane change and lane keep assist. Huh.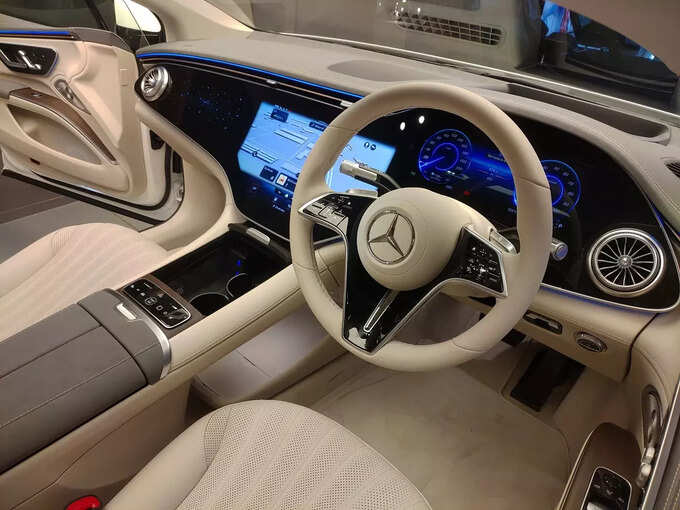 Excellent range and speed
Talking about battery, power and range, the Mercedes-Benz EQS 580 4Matic has a 107.8kWh lithium-ion battery pack. Its electric motor generates 523 bhp power and 855 Nm torque. The company claims that this electric sedan can accelerate from 0-100 kmph in just 4.3 seconds and has a top speed of 210 kmph. At the same time, in terms of range, the Mercedes EQS 580 will be able to run up to 857 km on a full charge. This EV supports 200kW DC fast charging and can give a range of up to 300 km on a charge of just 15 minutes.