New Delhi: If you want to buy a new bike or scooter this Holi, but are not able to buy due to low budget, then now you do not have to worry. Today we are going to tell you about such an easy way, with the help of which you can buy a used bike or scooter at a very low price. If you say used two-wheeler in simple language, then second hand two wheeler. Actually, there are many such platforms online and offline, where you can buy used two-wheelers at affordable prices. comes in this line Facebook Market, Yes. You read it right here you Bajaj Pulsar (Bajaj Pulsar), Hero Splendor (Hero Splendor), Honda Activa (Honda Activa), TVS Apache (TVS Apache) two-wheelers at affordable prices.
Buy a two-wheeler of your choice in Facebook Market
In fact, very few people know that the Facebook which is used to share more photos, posts and text messages, you also get the market of two-wheelers. Here you can buy vehicles directly by talking to the person selling the vehicle. You can negotiate the deal directly over the phone. However, this will require you to thoroughly examine the vehicle.
how to use facebook market
First of all open Facebook profile. On the left side you will see three many options. Here you will see the Market option on the third number, click / tap on it. In this section you will see many categories. In these, click on the Vehicles category. Here on the Price section, you can decide the price range. At the same time, you can set the distance in the Filter option. Whereas, above you can choose the option of car or motorcycle in the categories. Now you can choose the vehicle according to your choice and budget. Apart from this, one can directly contact the person selling the vehicle.
Old two-wheelers available at cheap rates

In Facebook Market, we set a limit of Rs 15,000 to Rs 25,000. After this, the option that we came across, the 2009 model of Honda Activa is available for Rs 15,500. At the same time, the 2010 model of Bajaj Pulsar 150 is available for Rs 20,000. Whereas, the 2010 model of TVS Apache 160 is available for Rs 22,000. Apart from this, you can buy Hero Splendor here at affordable prices.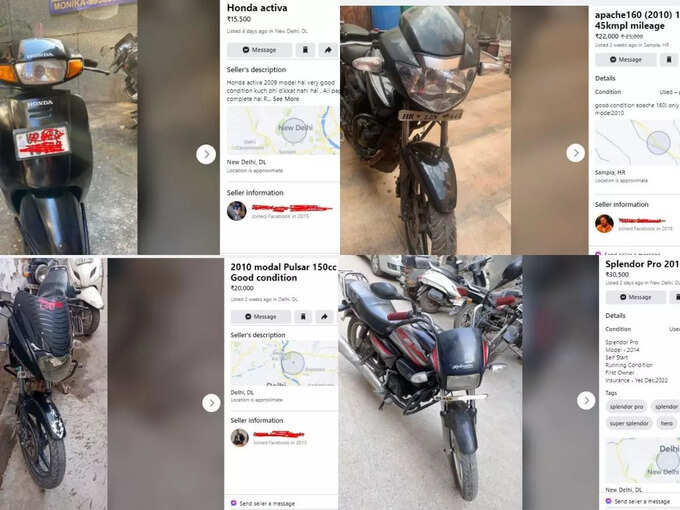 beware of thugs
Don't be fooled by the cheap prices. Check the paper and condition of the vehicle thoroughly. Apart from this, also check whether there has been any accident or crime with that vehicle.