Counterpoint Technology Market Research has summed up the results of a study of the global market for application processors for smartphones running the Android operating system.
It is estimated that in 2021, sales of SoCs for cellular devices increased by 3.6% compared to 2020. The industry is divided among five leading suppliers.
The market leader is MediaTek with a 46% share. In other words, this company controls almost half of the supplies. It is noted that last year MediaTek showed significant growth in the sub-$300 category of smartphones thanks to its Dimensity 700/800 series processors.
In second place in the ranking of leading suppliers is Qualcomm with a 35% share. The company dominates the $300-$499 segment, where Qualcomm has a 65% share.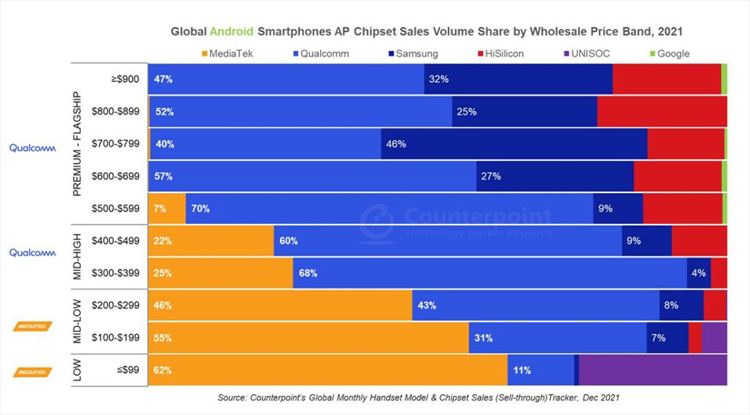 The top five suppliers include Samsung, but demand for the company's products has declined. Thus, in the $100–$299 segment, the share fell from 17% to 7% over the year.
Unisoc showed growth in the sub-$200 category. And in the segment up to $99, the share was 26%.
Finally, it is noted that HiSilicon captured 16% in the $500 and above smartphone category.