The developers of the AnTuTu benchmark have published another performance rating of top smartphones for September. It has only one model on a MediaTek single-chip platform, but it is also the best.
The recently unveiled Asus ROG 6 Dimensity Supreme Edition, based on the Dimensity 9000+, topped the rankings with a score of 1,123,036 – no other phone (and all nine models are built on Snapdragon 8 Plus Gen 1) could beat this result.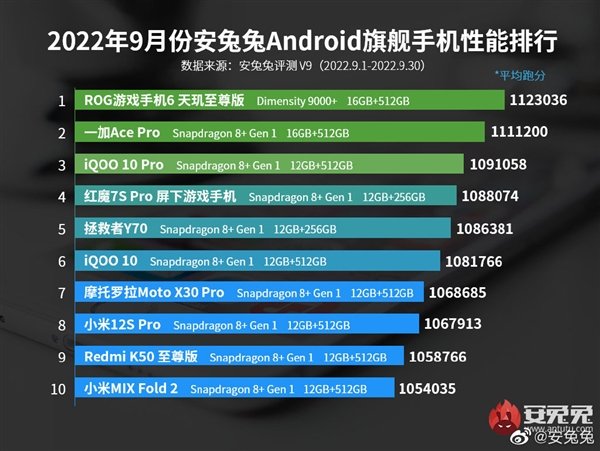 In this context, it is interesting to evaluate the results of the survey conducted by GSMArena. The journalists wondered how interesting users are both the Asus ROG 6 Dimensity Supreme Edition itself and its versions on Qualcomm and MediaTek SoCs. It turned out that out of almost 1700 participants, only 341 are ready to purchase the Dimensity 9000+ version, while almost twice as many respondents prefer the Snapdragon 8 Plus Gen 1 version of the phone.
It turns out that users tend to trust models based on SoC MediaTek less, even though they demonstrate performance at the level (and in this particular situation, even higher) of Qualcomm SoC.