New Delhi.
LML Electric Scooter Bike And Cycle Unveils In India: After a long wait, LML is finally back in the Indian market and the company has unveiled electric two-wheelers as well as cycles. While the LML Orion electric cycle is in the electric cycle segment, the LML Star electric scooter as well as the LML Moonshot electric bike are all set to create a ruckus in the market in the coming times. The company has currently unveiled the concept models of all these three electric two-wheelers and will unveil its production ready models in the second half of next year. Let us now tell you about the electric two-wheelers of LML.
LML's Electric Motorcycle
Talking about LML MoonShot Electric Bike, LML's first electric motorcycle in the Indian market, it will be a product with a very unique design, which will be inspired by KTM bikes. It will see exterior features like LED headlamps, front beak, sleek turn indicators, upright handlebar, bench style seat. The company says that this electric bike will be offered with riding modes like throttle only and pedal assist and will get USD front forks as well as monoshock rear suspension. The company will present Moonshot with swappable battery technology.
LML Electric Scooter
Talking about the look and features of LML Star Electric Scooter, it will be a maxi-style e-scooter, whose look will be quite a lot of design. It will get apron mounted LED headlamps, LED DRLs, bulky side panels and a completely different design taillamp. Later, it will see many special features including digital instrument cluster with smartphone connectivity, tripper navigation. Swapable battery technology will be seen in this electric scooter. In terms of battery range and speed, the LML Star Electric Scooter will be quite a force to be reckoned with.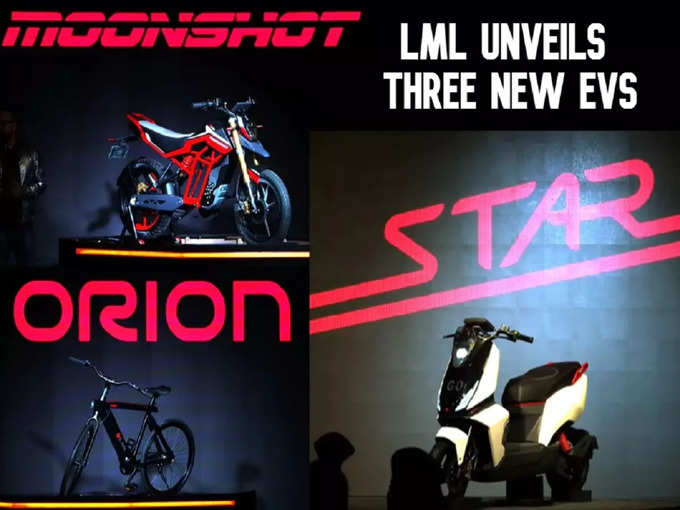 LML's Electric Cycle
LML has also unveiled a concept model of a new electric cycle called the LML Orion Bicycle and will be launched next year. This electric cycle will get IP67 rated battery pack along with inbuilt GPS, smart storage pockets, GoPro mounts and smart telematics. In terms of looks and features, the LML Orion will be quite spectacular.