The Chinese company SAIC introduced an interesting Maxus Everest motorhome to the home market. This is not just another van converted from a full-metal van – it has an all-wheel drive chassis from a Genlion H6 truck and three differential locks, so you can climb into the wilds on such a motorhome (which, of course, is facilitated by a winch and off-road tires). The chassis is short, like a Mercedes-Benz Unimog.
SAIC Maxus Everest is equipped with a Cursor C9 diesel engine (licensed version of the IVECO ICE) with a volume of 8.7 liters and a power of 330 hp. (torque – 1400 Nm). Paired with him is a 6-speed "automatic" Allison 3200P. The standard fuel tank capacity is 300 liters. It is enough for about 1000 km. And for a surcharge, you can get a tank of 600 liters (respectively, the power reserve will increase to 2000 km).
Maxus Everest received a two-story layout. On the ground floor there is a kitchen-dining room and a bathroom. There are comfortable seats from the Maxus Mifa 9 minivan, an independent audio system, as well as many storage niches. On the second floor there is a bed and a sofa. Also Maxus Everest has a folding terrace.
The motorhome is equipped with water filtration and heating systems, household appliances, underfloor heating, projectors and two air conditioners. A lithium-ion battery with a capacity of 29 kWh is responsible for the operation of all this electrics. It can be charged from solar panels, charging stations and, of course, from internal combustion engines.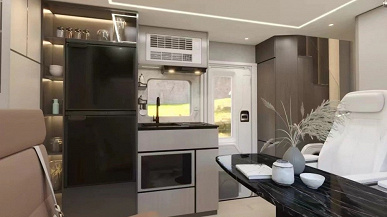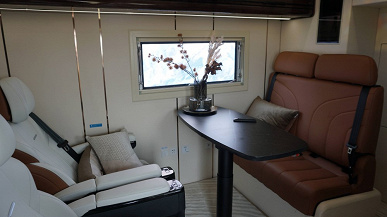 The basic version of SAIC Maxus Everest with a 300-liter tank is estimated at 2.88 million yuan (405 thousand dollars or about 24.3 million rubles).