Microsoft wouldn't be itself if Windows 11's first major update – Windows 11 2H22 – turned out to be hassle-free. Users (and especially gamers) faced a lot of difficulties after installing the update. Most frequent complaints — on the drop in frame rate in games (this is especially true for Nvidia 3D accelerators), the slowdown of the OS itself, and the blue screen of death.
The largest American form of Reddit is full of resentment. "Personally, I just have crazy freezes in games. Removed the update – it became much better", wrote one Reddit user.
Another commenter noticed significant FPS drops immediately after the update. According to him, it became impossible to play, while he has a fairly powerful hardware, and before the update of the operating system, there were no problems with games.
A third forum member notes that the same problems were observed in the Windows 22H2 beta version three months ago. The user thought that everything would be fixed in the final version of the update, but this did not happen. "Thank you for wasting another hour of my time", — wrote a disgruntled Reddit user, referring to Microsoft. By the way, he noted that after installing Windows 22H2, even scrolling the page in the browser turns out to be "twitchy".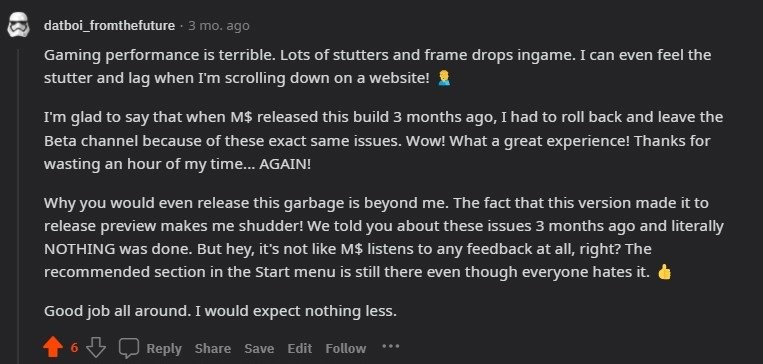 After installing Windows 22H2, there are also problems with sound. A variety of games slow down, including relatively undemanding ones like Call of Duty. Nvidia has joined the investigation and is asking users to submit more data. It is possible that soon the company will update the GeForce driver specifically taking into account the problems identified in Windows 22H2.
For now, everyone has the same recommendation. — do not install the update, and if it is already installed — roll back.