Coimbatore: JK Tire FMSCI National Racing Championship: The 24th JK Tire FMSCI National Racing Championship Grand Finale in Coimbatore, Tamil Nadu got off to a great start with the LGB Formula 4, JK Tire Novice Cup and Royal Enfield Continental GT Cup categories contesting on Day 1 at Kari Motor Speedway on Saturday. The weather was a bit bad in the beginning of the day, but by the afternoon the weather also came in color and then different categories of racers were also seen in color.
Royal Engineers started with a bang in the race for the Royal Enfield Continental GT Cup and Anish Shetty looked the fastest in the opening lap and was followed by Allwyn Xavier. Meka Vidhuraj also dominated in the next few laps and gave a tough fight to Anish. The later laps saw a good race between Anish and Meka, but Anish always remained in the leading position. However, the game changed in an exciting way in the last and Meka Vidhuraj was the first to touch the finishing line. Anish Shetty at number two and Allwyn Xavier at number three.
In the JK Tire Novice Cup, Bengaluru's Ruhan Alva scored 80 points in the opening 3 rounds and then continued to perform well to secure the pole position. After Ruhaan, Naeem Rizvi was second and Aditya Parashuram at number three. Jaden Perriet of Guwahati did well in the beginning, but his control of the car in the later rounds was not that good, due to which he slipped to the fifth position. In the LGB Formula 4 competition, Amir Saeed continued to perform well and secured the top position. However, he was given a tough fight by very experienced racer Diljit TS, but could not leave Saeed behind. Ashwin Dutta was in the third position.
Altogether JK Tire FMSCI National Racing Championship The first day of the Grand Finale was quite thrilling, where the top contestants were given a tough fight by the second number contestants and the first and second positions were decided with a gap of just a few seconds. On Sunday, the second day of the JK Tire FMSCI National Racing Championship will see even more excitement where the racer winner will be decided.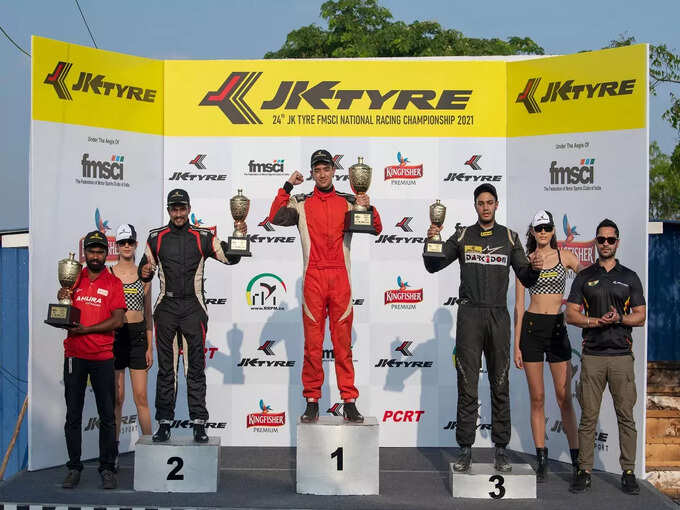 First day's provisional race result-

JK Tire presents Royal Enfield Continental GT Cup
Race 1:
Meka Vidhuraj – 13:32.000
Anish D Shetty -13:32.061
Allwin Xavier -13:40.861
JK Tire Novice Cup:

Race 1
Ruhaan Alva (MSport)-14:27.599
Neym Rizvi (MSPort)-14:29.854
Aaditya Parasuram (Hasten Performance)– 14:31.269
LGB Formula 4:

Race 1
Amir Syed (Ahura Racing) -21:47.001
Diljith TS (Dark Don Racing) – 21:49.327
Ashwin Datta (Dark Don Racing) -21:52.460