Intel has finally unveiled its Arc line of desktop graphics cards today. It consists of four models: A380, A580, A750 and A770. The A380 debuted earlier and is already in retail, but the other three models are the real novelties.
All three are built on the ACM-G10 GPU, but its full configuration is only in the A770: 32 Xe cores and 4096 FP2 cores. Memory bus width – 256 bits, GPU base frequency – 2.1 GHz, memory frequency – 17.5 GHz, memory bandwidth – 560 GB / s. Such a video card will compete with the GeForce RTX 3060 Ti – the current generation Intel flagship is not capable of more. The Intel Arc A770 will be available in 8GB and 16GB versions.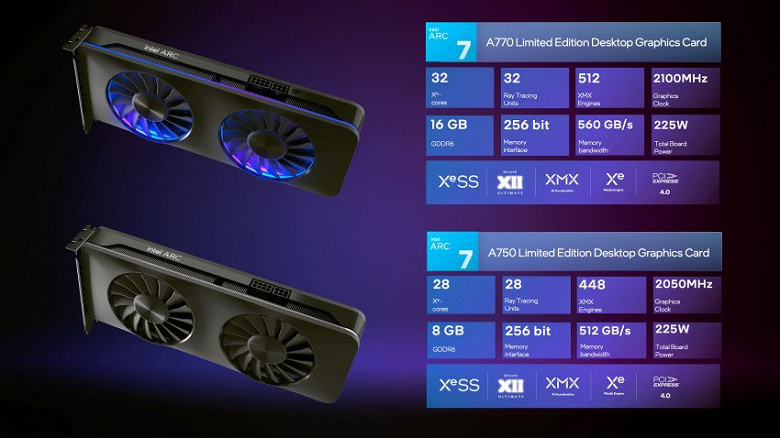 The Intel Arc A750 has 28 Xe cores and 3584 FP2 cores, 8 GB GDDR6 memory at 16 GHz and a bandwidth of 512 GB/s. The base frequency of the GPU is slightly lower than that of the flagship – 2050 MHz, but the TGP value is the same – 225 watts.
Intel Arc A580 received 24 Xe cores, 3072 FP32 cores and 8 GB of GDDR6 memory connected to the GPU using a 256-bit bus. The GPU clock is capped at 1.7 GHz, but again, that's the base clock and the max will be higher.
Intel has not yet said when the video card will go on sale, and how much they will ask for. The company also previously indicated that the models of the Arc line would debut "in key countries", so at first the geography of sales will be very limited.