The Russian promising robotic platform "Marker" will be finalized for new tasks, while a version will be created "sharpened" for the tasks of a special operation in Ukraine.
"The Marker project will be further developed. Despite the fact that the mass and dimensions of the platform will remain the same as those of the already assembled samples, their functionality and capabilities will be significantly expanded. The conditional "Marker-2" will be aimed at at least three tasks: protection, elimination of the consequences of emergencies (ES), and conducting auxiliary work in combat conditions, taking into account the needs of the troops identified during the current special operation, "the RIA Novosti source said.
Currently, a search is underway for an enterprise with the help of which it will be possible to realize the project. The weapons systems that will be installed on Marker-2 are also selected. The robot will be designed both to perform work both in urban conditions and in the front zone.
Three "Markers" have already been handed over to the specialists of the Ministry of Emergency Situations, who are now adapting robots for the tasks of liquidation and prevention of emergency situations, including extinguishing fires of various types and complexity.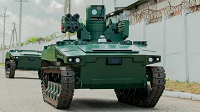 Earlier, Evgeny Dudorov, executive director of the Marker developer, said that this robot aroused the interest of Roskosmos, the Russian Guard and Russian Railways. The robot was developed as part of a project by the Advanced Research Foundation. The platform has a mass of about three tons, can be equipped with various weapons. The development has the most advanced autonomous movement skills in Russia with object recognition based on artificial intelligence technologies. The autonomy of the platform is ensured by a modular multispectral vision system, data processing in which is carried out by neural network algorithms.
In three years, key technologies were created, as well as two wheeled and three tracked autonomous platforms equipped with a unified payload module and an unmanned aerial vehicle cluster launch module.