In the pre-Christmas period in Germany, about 19.5 billion bulbs are lit on Christmas tree garlands in living rooms, on the facades of houses and in courtyards. This is the conclusion reached by the authors of a representative survey conducted by YouGov, an international public opinion research institute, commissioned by the Hamburg energy company LichtBlick. That's 0.7 billion more than in 2020, a new record since 2011, when LichtBlick first commissioned such a study.
But as the number of Christmas lights increases, so does the consumption of electricity. Due to the festive illumination at Christmas and New Year's, it jumps in Germany, according to rough estimates, by 17 percent – to 623 million kilowatt-hours, which corresponds to the annual electricity consumption of a city with a population of 200 thousand people. And if that electricity comes from fossil fuels, CO2 emissions increase. Therefore, in order to enjoy the holidays in an environmentally friendly way, it is worthwhile to choose your electrical jewelry wisely. DW turned to German experts for advice.
Give preference to LED string lights
The fact that LED strings are significantly more energy efficient than strings with incandescent lamps is already undeniable: LEDs consume 80-90 percent less electricity. It follows from this: if the inhabitants of a city with a population of 200 thousand people at Christmas time simply replace old incandescent lamps with modern LED ones, they will be able to save as much energy as 340 households consume on average a year. Therefore, in order to reduce CO2 emissions and at the same time reduce energy costs, it makes sense to replace old lighting decorations with LED versions, advises Tobias Schleicher, expert at the Öko-Institut in Freiburg.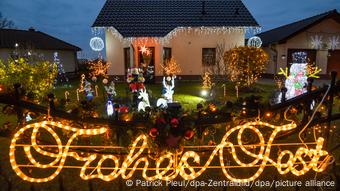 The purchase of luminous jewelry should be approached deliberately.
However, in no case should you mindlessly buy up all the New Year's LED decorations in a row. It is imperative to pay attention to their quality and warranty period. "There are a lot of cheap goods on sale, which sometimes last no longer than a season, and discarded electric garlands are rarely recycled," says Schleicher.
As a result, e-waste ends up in conventional landfills. And the valuable natural raw materials contained in LED cables, such as copper and rare earth metals, are wasted, laments Rolf Buschmann, a referent for the Federal Association for the Environment and Conservation. In addition, the expert points out, cheap low-quality LED products often contain hazardous substances. And if this kind of jewelry ends up not in an e-waste recycling facility, but in a landfill, then in the worst case, they can pollute the soil and groundwater.
Choose economical options for festive lighting
Competing with your neighbors to decorate your home for Christmas can also harm the environment. In the pre-Christmas period, hundreds of glowing threads and flashing garlands shine on the facades of some buildings. Such luxurious holiday lighting is ecologically irrelevant.
"The fact that LED bulbs use five to ten times less energy than incandescent bulbs does not mean we have to hang out five to ten times more electrical decorations during Christmas time," says Tobias Schleicher.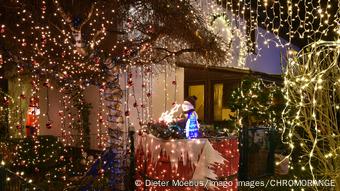 Competition with neighbors in decorating a house before Christmas with illuminations can harm the environment
In some countries, electricity consumption around Christmas is exorbitant: according to a study published in the business magazine Forbes and conducted by the American energy company Arcadia, in December 2020, about 3.5 billion kilowatt-hours of electricity were consumed in the United States as a result of holiday lighting alone.  private homes – more than countries such as Uganda and Suriname spend in a year. And that's not counting the festive illumination on the streets, squares and shopping centers.
And in addition to high energy consumption, Christmas street lighting is harmful to the environment, as it disrupts the biorhythms of people and animals. So, in birds with a daytime type of activity, the metabolic rate increases, which affects their behavior: due to the abundance of light, they extend the time of their feeding. But satisfying the growing hunger in winter is not easy, and in the end they can die from malnutrition.
Natural candles as an alternative to electric lighting
To keep your own outdoor Christmas decorations from harming people and animals and not wasting unnecessary energy, choose garlands in warm colors rather than bright flickering lamps. And so that the lighting automatically turns off in a timely manner, use timers.
Well, for the interior, candles will be a much more energy-efficient and certainly more romantic alternative to any electric lighting. True, most candles are made from paraffin, a hydrocarbon mixture produced during the processing of crude oil. And since the world's oil reserves do not last forever, candles made from renewable resources such as beeswax, soybean or rapeseed wax are best preferred to traditional paraffin candles. Natural candles will not harm either nature or your health. And their magical scent will fill the house with the feeling of approaching Christmas.