The source calculated how profitable it is to buy cars for parallel imports in Russia, and also cited comparative prices for popular models.
For example, a Kia K5 sedan with a 2.0-liter engine, taking into account customs clearance, will cost an individual 1.8 million rubles (1.15 million rubles for a car and 650 thousand rubles for customs clearance). In Russia, such a car costs from 2.7 million rubles.
The new Mitsubishi Pajero Sport with a 2.4-liter engine in Thailand can be bought for 2.24 million rubles, and customs clearance will cost 1 million. In Russia, it costs from 4.3 million rubles. A popular Chinese crossover can be bought for 892 thousand rubles and cleared for 431 thousand rubles, and in Russia it costs from 2.48 million rubles.
It makes little sense to bring other cars from abroad, for example, a Toyota Corolla with a 1.6-liter engine, bought according to this scheme, can even cost more than in Russia.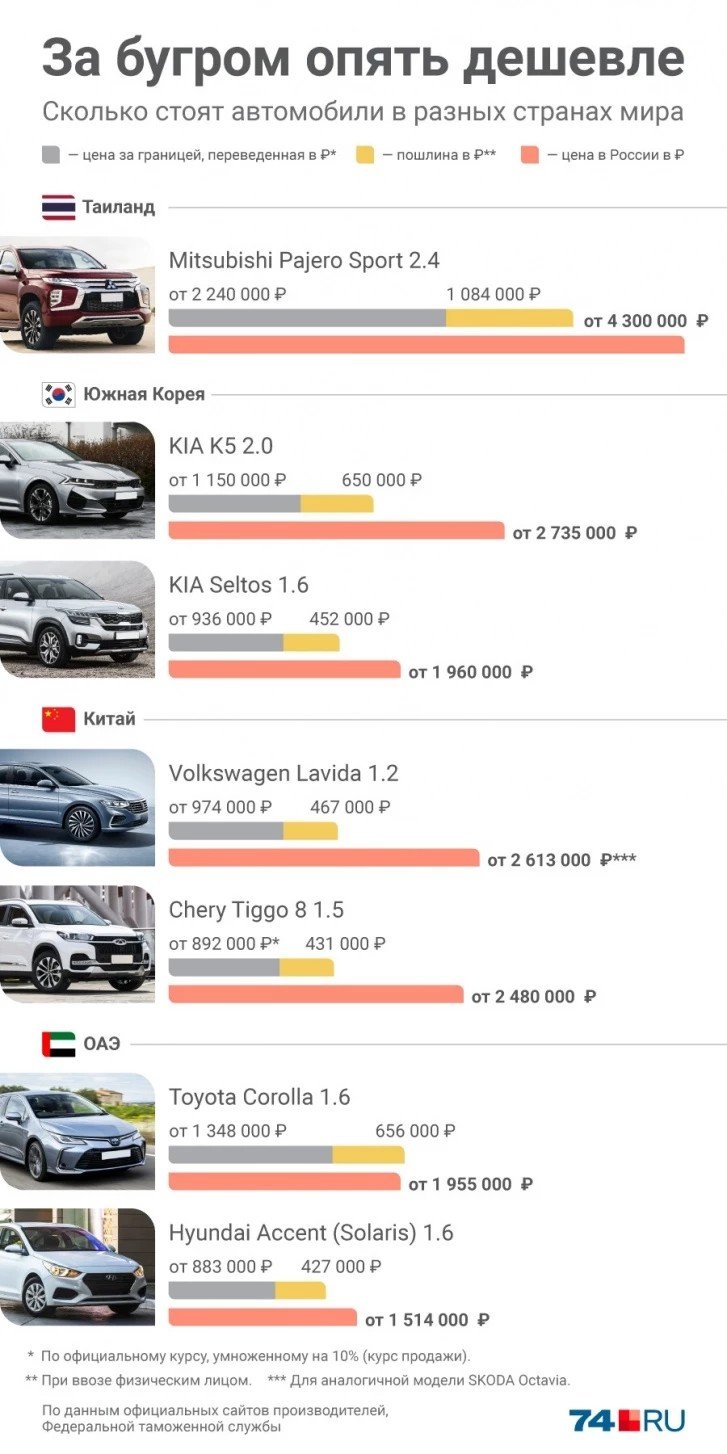 The import of cars through "parallel imports" was legalized by the Ministry of Industry and Trade in early May, and at the end of June the president signed a separate law that allows parallel imports and exempts from liability for it.
The list of brands allowed for parallel import to Russia includes Volkswagen, Skoda, Toyota, Renault, as well as Nissan, Mitsubishi, Subaru, Suzuki and Honda. In addition, Russians can import BMW, Audi, Mercedes-Benz, Volvo, as well as Land Rover, Jaguar, Lexus, Infiniti, Porsche, Tesla, Bentley, Lamborghini, Ferrari, Maserati, Bugatti and many other cars.