The closer the announcement of new AMD processors, the more leaks appear on the Web. Today we have the opportunity to evaluate the capabilities of the older Ryzen 9 7950X and the eight-core Ryzen 7 7700X in the CPU-Z test.
In single-threaded mode, these processors score 780 points each; in multi-threaded mode, their results are 16,809 and 8057 points, respectively.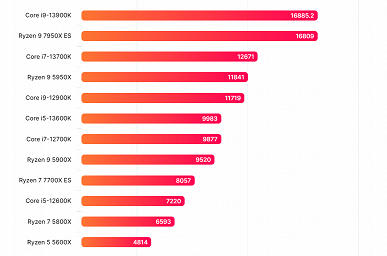 Compared to the current generation of Ryzen, they are much faster. Single-core performance increased by 20% and multi-core performance by 22% for the Ryzen 7 7700X and an incredible 40% for the Ryzen 9 7950X.
If we talk about comparison with the upcoming Intel Raptor Lake, then in multi-core mode, the Intel flagship is equal to the AMD flagship, but the Ryzen 7 7700X is significantly behind the Core i5-13600K. But in all such tests, you need to remember that these are generally synthetic benchmarks, so you need to wait for tests in real applications.