New Delhi.
Expanding its Bigwing lineup, Honda has launched its new Honda CB 300F in the Indian market. The company is making many big claims about its strong engine and powerful performance. However, there are many more powerful bikes in this segment, which are giving it a tough competition. In such a situation, the most basic question which is that how is this bike? Will it be right to invest money on this bike or not? So today we are going to give you the answer of this question in this segment. We rode the Honda CB 300F in its first drive to Ramoji Film City, Hyderabad for about 4 hours. Where we tested its performance, control and braking features on different terrain. Today we are going to tell you its review. Where you will be able to know in easy language how this bike will be for you. So let's have a look…
Look: Nothing new on Descent
The Honda CB 300F looks like the Honda Hornet at first glance. In such a situation, those who were expecting a new look, they may be disappointed. However, the look of this bike is not less in any sense. On the front side, you will find many sharp edges, which make its look quite aggressive. There is a big headlight at the front, which has a great visibility range. The tank of the bike gives it a muscular look. Split seat has been given in the bike. LED lights are provided in the rear section. Split grab rills have been given in its rear, which makes it look quite appealing. V-shaped alloy wheels have been given in its front and rear.
Honda's Language Design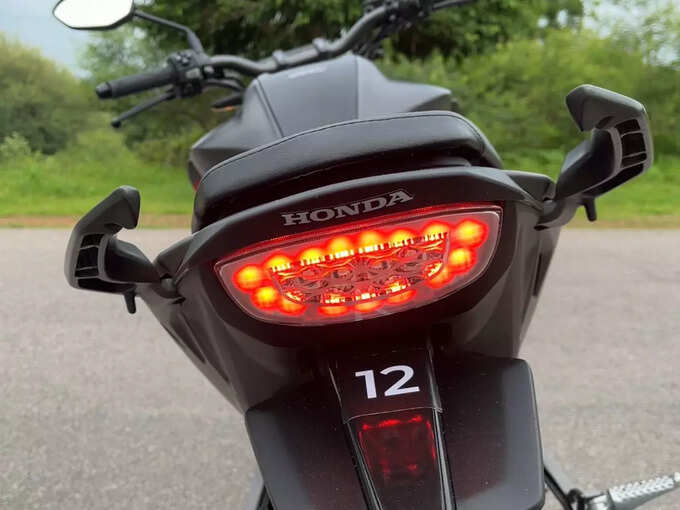 Lookwise, if this bike is to be defined then it is a stylish bike, but there is nothing new in it. However, if you follow Honda's pattern, then the company does not make much changes or experiments in the look. In a way, it can also be said that this is Honda's language design. In such a situation, it is not a big deal that if Honda will launch its new bike in this segment even further, then you will hardly see much change in its look. In such a situation, it is an aggressive street bike in terms of look.
Performance: From here the real game begins
Now let's talk about the USP of this bike, which is its strong performance. Talking about the specification, it has been given a 293.5 cc single cylinder, 4-stroke, 4-valve, SI, oil-cooled engine for power, which generates maximum power of 18kw at 7,750 rpm and 25.6 Nm peak torque at 5550 rpm. Is. Apart from the specification, if you talk about the experience, then when you drive it then you will know why this bike is different in its segment. Its fueling is amazing due to the oil cooled technology. Its engine is so refined that when you drive it, you neither get any vibration nor does the bike lag anywhere. It has a 4-valve engine, which gives you a powerful drive experience. What we felt driving the Honda CB 300F, instead of calling it a decent sports bike, we can call it a great commuter bike. During long rides and quick acceleration, you will get to know how great the engine is.
Suspension: The feel of a premium bike in a cheap budget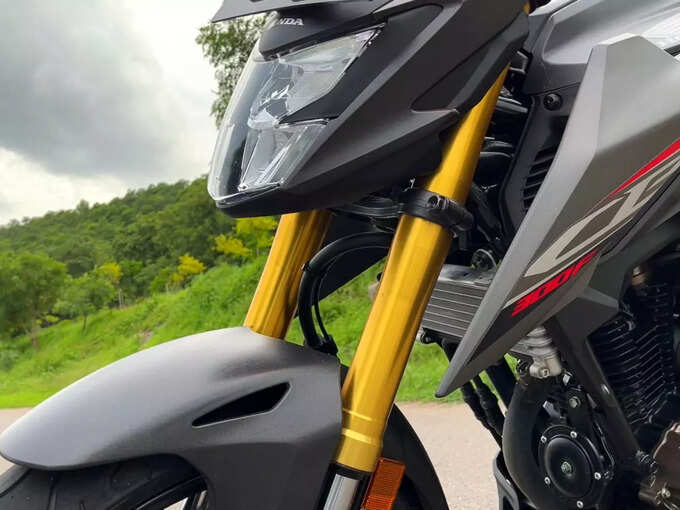 Suspension is the most important part of any bike after the engine. No matter how refined the engine of the bike is, but if it is not comfortable during the drive, then it is of no use. While driving the Honda CB 300F, one thing that we understood is that Honda itself could not explain to its customers what is special about this bike. At the front, Showa's Big Piston Telescopic (USD) suspension has been given, which you get in premium bikes above 5 lakhs. The USD suspension will give you a solid grip while riding, which will enhance your configuration. At the same time, it has a 5-step adjustable monoshock suspension at the rear, which is decent. However, the rear suspension could have been a bit better.
Brakes: Rear could have been better
Its front has a disc brake of 276 mm. At the same time, a 220 mm disc brake has been given in its rear. For safety, it gets dual channel ABS feature. We found the front disc brake more effective while riding. The rear brake could have been improved a bit.
Dimensions: Riders with 5.5 feet height will also get better grip
The stance of the bike is quite aggressive. When you sit on it, you will automatically get a confidence. Its wheelbase is 1390 mm and ground clearance is 171 mm. Its seat length is 614 mm and height is 789 mm. My height is 5.11 feet but, even a rider with 5.5 feet height can drive this bike with better grip.
Ride Experience: Worth it
If you go by the looks, you might find the Honda CB 300F to be a simple bike, which you might not want to buy. But, when you drive it, you will get to know what Honda has given in the last. Its curb weight is 153 kg. We drove this bike at a speed of 116 kmph in Ramoji Film City, Hyderabad and this is where the real game changer comes to light. The best feeling we felt in this bike was at the speed of 100 to 116 kmph. No vibration and no shake, the bike runs quite smoothly at this speed in 6th gear. You can understand the power given in its sixth gear in such a way that you can lift this bike in the sixth gear at a speed of 37 kmph. Yes, that too without a hitch. To check its power in first gear, we drove it up to 47Kmph. Although there is very strong vibration at this speed, but the vibration is normal up to 20 kmph. In the fourth gear, the bike easily crosses the speed of 100 kmph. However, at this speed in 4th gear, you don't get the smooth ride that you would like to drive it.
Strong grip on every terrain
The turn-to-ratio of this bike is very good. When you bend the bike on the turn, the bike gets tremendous grip. The 150 mm wide tire at the rear gives tremendous confidence during the drive. The bike moves by holding the road. We didn't feel the risk of disbalance anywhere while driving or applying sharp brakes.
The Auto Gear Shift technology has been given in the Honda CB 300F, which makes the gear change mechanism absolutely smooth.
fully digital instrument panel
Honda CB300F gets a fully digital instrument panel, where you can get information about gear, side stand, time, trip, fuel, average rear time. However, on this we will write a separate article, where we will tell you about all its features in detail.
Color options and variants
The company has launched Honda CB 300F in two variants like Deluxe and Deluxe Pro. Customers can buy it in 3 color options. These include Matte Axis Gray Metallic, Matte Marvell Blue Metallic and Sports Red.
Price – Why is the Honda CB 300F affordable despite being expensive?
The Deluxe variant of the Honda CB 300F starts at Rs 2,25,900 in Delhi ex-showroom, which goes up to Rs 2,28,900 on the Deluxe Pro variant. In the Indian market, Honda CB 300F has a direct and tough competition from Suzuki Gixxer, KTM 250 Duke and BMW G 310 R in its segment. Suzuki Gixxer is the cheapest bike in this segment, priced at Rs 1.8 lakh. At the same time, the KTM 250 Duke is about Rs 9,000 more expensive than the CB 300F. BMW G 310 R is the most expensive bike in this segment, priced at Rs 2.70 lakh.
Honda CB 300F is a bit expensive in terms of price. This is the reason why it will get the toughest competition from the KTM 250 Duke. But, the biggest feature of Honda's Bigwing bikes is their service cost. The service cost of Honda is quite economical compared to all these bikes. In such a situation, even though the Honda CB 300F may seem expensive while buying, but it will prove to be very economical in the long term. Along with this, you will get Honda's trust in terms of performance.
Verdict – How is the Honda CB 300F after all?
The look of the Honda CB 300F is its downside. As we already said, its look is very aggressive and appealing but there is nothing new in it. In such a situation, the KTM 250 Duke and BMW G 310 R are heavy on it look-wise. Price can also be a factor that makes you think a bit. But, with the package of performance, riding experience and service cost, it is a great and powerful bike in its segment, which is absolutely value for money and beats other bikes. If you are confused whether to buy it or not, then definitely take a test drive of it. Trust me your confusion will be over.