The Crew Dragon ship, which is part of the Falcon 9 launch vehicle, with Russian woman Anna Kikina on board, has docked with the International Space Station (ISS).
The docking of the ship with the NASA orbital station was conducted live, so the presenter at 00:02 Moscow time announced the confirmation of the contact. After docking with the ISS and opening the hatches, the crew of the American manned spacecraft went on board the station, where they were met by Roscosmos cosmonauts, NASA and European Space Agency (ESA) astronauts currently working at the station.
The crew includes NASA astronauts Nicole Mann, Josh Kassada, Japan Aerospace Exploration Agency (JAXA) astronaut Koichi Wakata, and Roscosmos cosmonaut Anna Kikina. They will work at the station for 145 days. This is the first flight of a Roscosmos cosmonaut on the SpaceX Crew Dragon spacecraft.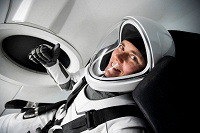 On October 5, the Falcon 9 launch vehicle with the Crew Dragon spacecraft in Florida launched to the ISS with a crew of four. The agreement on cross-flights of cosmonauts and astronauts to the ISS was signed by Roscosmos and NASA in July. Then it became known that the only girl in the Russian cosmonaut corps would fly to the ISS on the American Crew Dragon.
On August 4, it became known that Kikina would be involved in work on the American segment of the ISS. She will assist in outer space activities, help with robotics and perform various scientific tasks.