According to Jon Peddie Research, the PC GPU market plunged 33.7% in the second quarter to 84 million units.
Let's clarify that in this case, the source counts all GPUs, including integrated ones. Nvidia was the hardest hit in the quarter, down 3.15 percentage points. At the same time, AMD's share decreased by 1.1 p.p., while Intel's share increased by 2 p.p. As a result, Intel has 62% of the market, Nvidia has 18%, and AMD has 20%.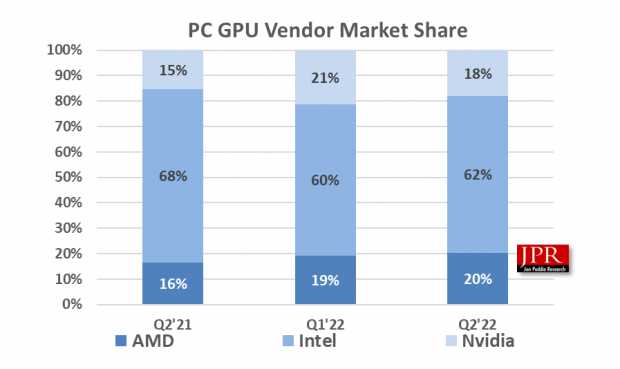 On a quarterly basis, shipments fell 14.9%. AMD lost 7.6%, Intel lost 9.8%, and Nvidia dropped 25.7%. This just explains the recent Nvidia report, where profits collapsed by 80%.
If we talk about discrete graphics cards, their shipments fell by 22.6% quarterly. Analysts expect that over the next five years, the share of discrete GPUs in PCs will grow to 30%.