The GeForce RTX 4090 is twice as energy efficient as its predecessor and consumes only about 350 watts in games on average.. Our colleagues at Computerbase decided to see what would happen if we lowered the card's power limit from the original 450W to 350W or even 300W.
As it turned out, often this does not have a particularly strong effect on performance. Since the average real consumption of the adapter in games is just about 350 W, lowering the power limit to this value on average leads to a decrease in performance by only 3%. In the worst case, the indicator drops by 8%, but this is only in one game.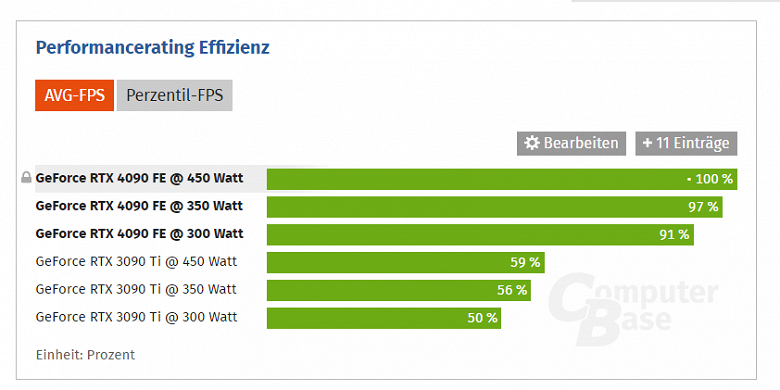 Lowering the power limit to 300W results in a larger drop, but it's still only 9%. Considering the card's incredible initial performance, it's entirely possible to sacrifice that 9% to reduce power consumption by about a third. True, in at least one game, the authors recorded a drop of 17%, which is quite a lot.
It would also be interesting to compare the RTX 4090 and RTX 3090 (or 3090 Ti) at the same GPU frequencies, but so far no one has conducted such tests.
As a reminder, today we also learned that the RTX 4090 suitable for games even in 8K resolutionwhat is it first gaming graphics card to achieve 100 TFLOPS performance.