A few days ago, Geely declassified the new models of the proprietary electric car brand – Geometry G6 and Geometry M6, which should replace the current Geometry A and Geometry C. In terms of appearance, the new items, although they differ from the current models, the design continuity is still traceable. Now Geely has presented images of the Geometry G6 and Geometry M6 interiors, and here everything is done completely differently: the minimalism of the interior space makes the interior similar to Tesla electric cars.
The salons of the G6 and M6 are completely identical. The two-spoke steering wheel was replaced with a three-spoke one. The digital instrument cluster has grown in size: instead of a 5-inch screen in the A and C models, it is 10.2 inches. The center console screen has grown from 12.3 inches to 14.6 inches. The climate control unit, central tunnel and door cards have also changed. The selector for switching driving modes is located on the steering column lever. In general, most of the keys have been removed from the front panel. The stretched air ducts and the "emptiness" on the central panel make the interior of the Geely G6 and M6 similar to the interior of a Tesla car.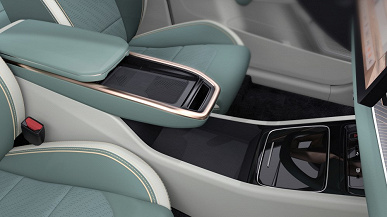 Alas, there are no new details about the technical part. It is assumed that both models will be equipped with traction batteries with a capacity of 54 kWh (430 km range) and 70 kWh (600 km range). The car will be driven by an electric motor with a capacity of 204 hp.