Roscosmos announced that at the Army-2022 International Military-Technical Forum, which will be held from August 15 to 21 at the Patriot Exhibition and Convention Center in Kubinka, Moscow Region, it will show a model of the new Russian orbital station for the first time.
Design is currently underway Russian orbital station. Among the new qualities and capabilities of the national station are large energy for target tasks, unification of modules, the ability to interact with promising satellite constellations and various modes of operation.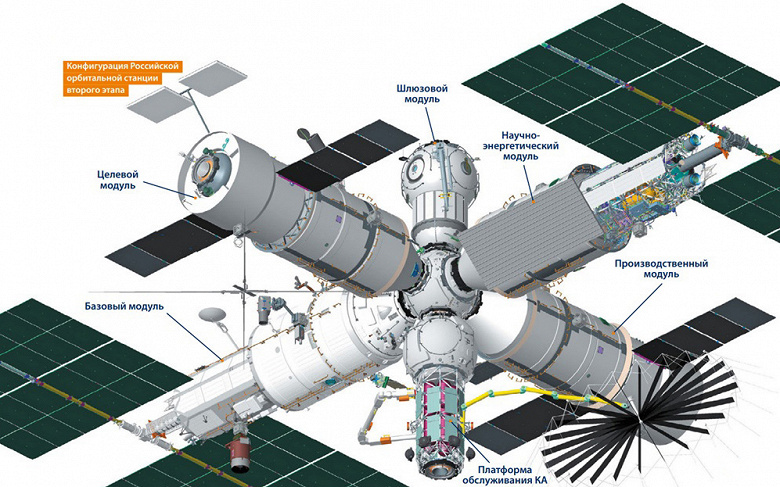 In addition, other novelties that have not been shown to the general public before are waiting for visitors: the Marker robotic complex, which was tested as a mobile security complex at the Vostochny cosmodrome, and ultra-efficient and high-life spacecraft propulsion systems based on Hall and ion engines.
Other products include models of launch vehicles Angara-1.2, Rokot-M, Soyuz-2, Soyuz-2.1v, Soyuz-5, Proton-M, Angara-A5 , "Angara-A5M" and "Angara-A5V", models of upper stages "Breeze-M", "Fregat-SB" and KVTK, models of spacecraft "Electro-L", "Arktika-M", "Obzor-R" , Resurs-PM, Aist-2D, Aist-2T, Glonass-K, Skif and Marathon, models of the International Space Station, the Soyuz MS manned spacecraft and a new generation manned transport spacecraft , a model of the launch complex for Angara rockets at the Vostochny cosmodrome, models of stationary plasma and thermal catalytic engines.
The forum will also showcase the products of Roscosmos enterprises as part of the diversification program, in particular, treatment pressure chambers, a model of a hydraulic fracturing fleet and a model of a monorail transport system.