The older models of the Intel Arc video cards of the A770 and A750 series have been available on the market for a month and a half, but only now additional accessories have begun to appear for them. Among those, we note water blocks for better cooling. For comparison, the GeForce RTX 40 and Radeon RX 7000 models received similar solutions at release.
The novelty was released by the Slovenian company EK. And this water block is quite expensive. Its cost is 248 euros, while the cards themselves in the reference version cost 419 euros (Intel A770 LE) and 333 euros (Intel A750 LE). In general, it turns out to be expensive.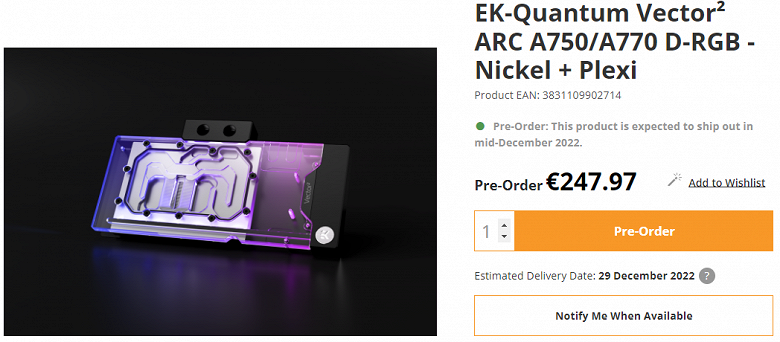 True, in the case of a water block, the price is more or less justified – the kit has everything you need for good cooling, including the back cover. At the same time, for such cards, such a CO looks superfluous, because so far Intel Arc video cards are poorly represented on the market and cannot boast of special achievements in games.
Surely many gamers who just want to play, and not test new cards, will buy something else for the same amount. In the case of AMD and Nvidia, much more powerful solutions can be found for this price.