The official sales of the GeForce RTX 3050 graphics card for desktop PCs will start on January 27, its reviews with tests in games will be published tomorrow, but the first such material has already appeared on the Web. It was clearly published ahead of schedule by mistake: the publication was hidden, but some data from the review is provided by the Videocardz resource.
The review compared the GeForce RTX 3050 (tested with EVGA RTX 3050 XC Black) to the Radeon RX 6600, RX 6600 XT, and GeForce RTX 3060. I would also like to see a comparison with the Radeon RX 6500 XT, but it's not available. However, with regard to games, we can already say that the GeForce RTX 3050 will be faster than the Radeon RX 6500 XT, because it noticeably outperforms the Radeon RX 6600 XT in Watch Dogs Legion.
In the 3DMark test, the GeForce RTX 3050 lost to absolutely all video cards from the comparison, but in games the situation looks different: in Watch Dogs Legion there are even more than 30 fps, but only at Full HD resolution and DLSS enabled. Radeon video cards here are not competitors at all for Nvidia's new product. In the Control GeForce RTX 3050, at the level of the Radeon RX 6600 XT, but with Full HD resolution and DLSS turned on, the new Nvidia even shows 50 fps.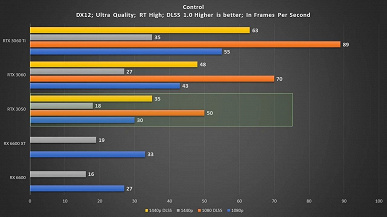 In general, reviewers indicate that despite the presence of Ray Tracing cores, the GeForce RTX 3050 is not for games with real-time ray tracing. But DLSS support greatly improves gaming performance and is something Nvidia has never been able to offer at this price point.