The experimental communication satellite BlueWalker 3 has deployed the largest antenna in Earth orbit, its total area is 64 square meters. It is expected that next year the creation of an orbital constellation of communications satellites similar to BlueWalker 3 will begin.
BlueWalker 3 was created by the American company AST & Science and acts as a prototype for the larger BlueBird satellites of the future SpaceMobile orbital constellation. It will consist of 168 satellites and is designed to provide broadband direct communication with cellular phones on the 3GPP consortium frequency standards, which will make it possible to establish communication in hard-to-reach areas of the Earth. The deployment of the constellation in low Earth orbit should begin at the end of next year.
A distinctive feature of the BlueWalker 3, with a total weight of 1.5 tons, was a deployable phased antenna array, with a diameter of 10 meters and an area of ​​64 square meters, consisting of many individual modules.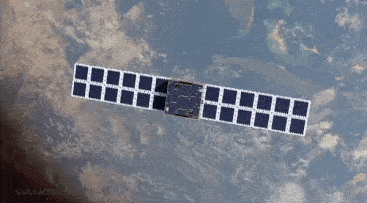 The satellite was launched into a 500-kilometer near-Earth orbit in September of this year using the SpaceX Falcon 9 rocketand on November 15 successfully deployed its antenna and sent pictures, becoming the largest commercial communications satellite.
However, this event caused alarm among professional astronomers, who had previously been concerned about the large size of the antenna, because of which it seems to be a bright point for ground-based telescopes and creates tracks in photographs. After opening, BlueWalker 3 was observed by many astronomers as a 1st-magnitude star, 50 times brighter than before the antenna was opened. So far, this has not interfered with astronomical observations, but as the number of BlueBird satellites in orbit increases, the problem will become more serious.