The Motorinvest car plant in the Lipetsk region, where Evolute electric cars will be assembled, will open on September 28. This was reported by "Rossiyskaya Gazeta" with reference to two sources who received invitations to attend the solemn ceremony of launching the site in the village of Grebenkino, Krasninsky district.
Until now, the exact date of the start of production of the Evolute has not been called, but the Ministry of Industry and Trade and the government of the Lipetsk region said that this would happen before the end of September. The company has not yet fully presented its electric vehicles (in early September, they were only shown as part of the Moscow Bicycle Festival 2022), but details about them are already known.
The first to be put on the conveyor is the Evolute i-PRO electric sedan, which is a simplified and slightly redesigned version of the Chinese Dongfeng Aeolus E70. With a length of 4680 mm, a width of 1720 mm and a wheelbase of 2700 mm, it will be comparable to the Kia Cerato, and a single 163-horsepower electric motor will allow it to accelerate to 100 km/h in 9.5 seconds. The power reserve from a 53-kilowatt battery will be 405 km according to the NEDC cycle or 250-280 km in real conditions.
The release of the second Evolute model – the i-JOY crossover – is scheduled to begin in October. In Russia, it is certified with one 177 hp electric motor. and a traction battery with a capacity of 53 kWh with a power reserve of up to 405 km according to the NEDC cycle. From a powerful charging station, the crossover will be able to charge from 30% to 80% in just half an hour.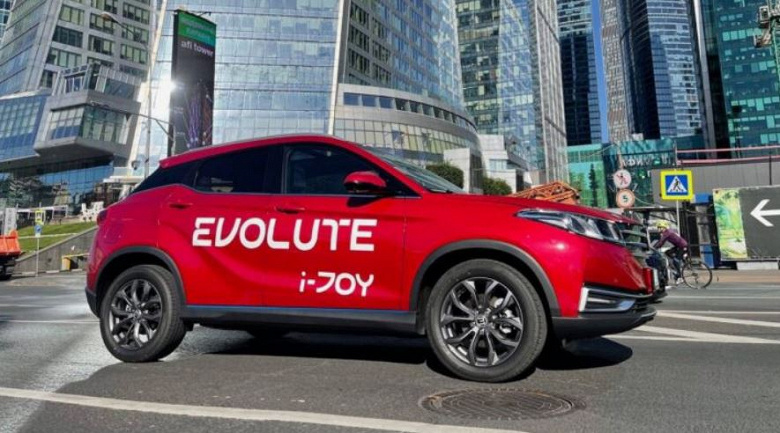 Next, the i-VAN electric minivan will go into production, and at the beginning of 2023 the i-JET coupe crossover will become serial, which, unlike the others, will be a hybrid.
As a result, the Evolute line should include five models: a sedan, a minivan and three crossovers. At first, they will be sold only in Moscow, St. Petersburg, Nizhny Novgorod, Krasnodar, Sochi, Kazan, Voronezh, Lipetsk and Rostov-on-Don, and in the future they will appear in the Crimea and other regions of Russia. The cost of electric vehicles starts from 3 million rubles, but this does not include discounts under the preferential car leasing program, which reaches 35% (but not more than 925 thousand rubles).