Perhaps Nvidia will still release a new graphics card from the Titan family based on the Ada Lovelace GPU. At least the author of the Moore's Law is Dead portal has both photos and renders of such an accelerator, which is now allegedly available in Nvidia laboratories.
You can see that the adapter, although not the longest, is incredibly thick. Such a card would take up four expansion slots, which, given its not very long length, looks very amusing.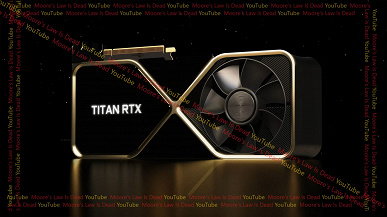 In addition, the model is equipped with two new 12VHPWR power connectors at once, that is, in theory, up to 1200 W of power can be supplied to it. Given that the RTX 4090 only draws about 350W in reality, it's entirely possible that the new Titan could make do with just one connector.
Previously, such an adapter was credited with the AD102 GPU in full configuration with 18,176 CUDA cores and 48 GB of memory. It can also be assumed that if the Titan does not come out, but the RTX 4090 Ti comes out, then the reference card just might look something like this.