Another 3DCenter diagram showing the change in the cost of video cards by month indicates that the most favorable time to buy a 3D card this year was in January and July, and at the moment users are forced to pay for video cards, in fact, twice as much official cost. More precisely, as of November 21, the markup for AMD Radeon RX 6000 graphics cards is 90%, for GeForce RTX 30 graphics cards – 95%.
This chart reflects the dynamics of price changes for Radeon RX 6000 and GeForce RTX 30 graphics cards in Austria and Germany, but the situation is no better in the US. The difference, perhaps, is only that the prices there are denominated in dollars, not euros, but the margin is about the same.
According to HardwareUnboxed, all Nvidia graphics cards went up in October. And almost all of them now, except for the GeForce RTX 3080 Ti, are offered twice as expensive as the official recommended prices (RRP). GeForce RTX 3080 Ti is more expensive than RRC by about 60%. On average, Nvidia 3D cards went up 6% on eBay in October – and now they are (again, on average) 113% more expensive than the RRP.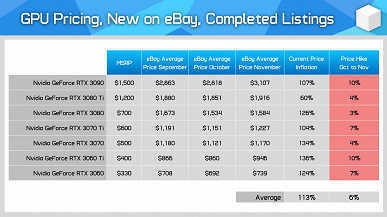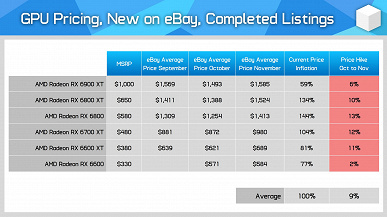 AMD video cards on eBay also added in October – they have risen in price by 9% and are offered at twice the recommended retail prices. Despite the fact that the Ethereum rate has declined in the past couple of weeks, it is still at the annual high. At the moment, for 1 ETH, they give about $ 4350. So it is extremely doubtful that video cards will start to fall in price in the near future.
.