Counterpiont analysts summed up the results of the European smartphone market in 2021.
Last year, sales grew by 8%, but the source of data does not give in quantitative terms. Samsung remains the leader, occupying 32% of the market, as in 2020. Apple increased its share from 22% to 26%, and Xiaomi, which closed the top three, showed an increase from 14% to 20%.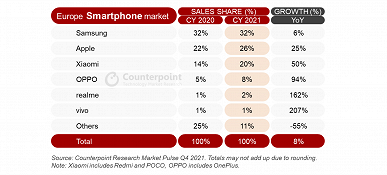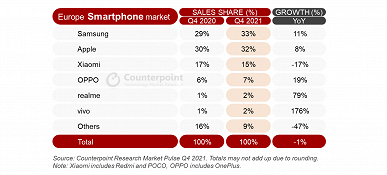 Also on the leaderboard are Oppo, Realme and Vivo. All six companies showed sales growth, but Samsung's is only 6%, while Realme and Vivo have 162% and 207%, respectively. Outside the top six, the rest of the companies in total showed a decline by more than half.
Interestingly, in contrast to global indicators, in Europe, Samsung retained its leadership even in the fourth quarter, even if it outperformed Apple by only 1 percentage point. At the same time, in the last quarter, Samsung showed even more growth than its eternal rival.
Analysts also mention Huawei, whose sales in the region fell by 80%, due to which the company dropped to eighth place, occupying less than 1% of the market.