Tesla CEO Elon Musk showed off a prototype humanoid Tesla Bot or Optimus robot on Friday, saying the electric car maker could make millions of such robots and sell them for less than $20,000.
"There is still a lot of work to be done to improve Optimus and prove it," Musk said at an AI Day event hosted by the electric vehicle maker at Tesla's Palo Alto, California office, where the robot was demonstrated.
The prototype model, which was developed back in February, took to the stage to wave and dance in front of the audience. Tesla also showed a video of the robot performing simple tasks like watering plants, carrying crates and lifting metal bars at a California manufacturing station.
Other automakers, including Toyota Motor and Honda Motor, have developed prototype humanoid robots capable of performing complex tasks such as throwing a basketball, and manufacturing robots from ABB and others are the backbone of the automotive industry. But Tesla is the only one pushing the market opportunity of the robot to the mass market.
Musk, who has previously spoken about the risks of artificial intelligence, said the massive deployment of robots could "transform civilization" and create "a future of abundance, a future without poverty." But he thinks it's important that Tesla's shareholders play a role in validating the company's efforts: "If I go crazy, you can fire me. It is important".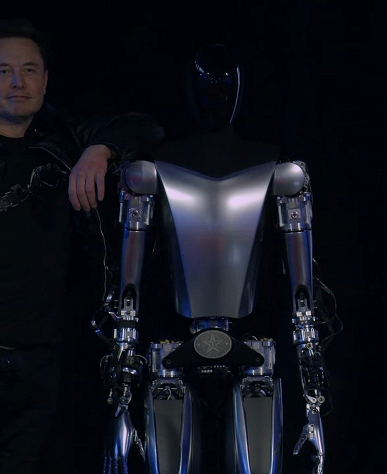 The billionaire also added that he plans to release a female version of Optimus.