Tesla Inc. chief executive of Elon Musk A post of is very much discussed. In fact, Musk has posted a Twitter poll, in which Musk asked users if they were a fan. Edit Button want. Please tell that Elon Musk on Monday Twitter had disclosed to buy a 9.2 percent stake, which is worth about $ 3 billion. With this, he has become the largest shareholder of the micro-blogging site.
"Would you like an edit button?" Musk asked in a tweet. Responding to this poll of Musk, Twitter CEO Parag Agrawal tweeted that the results of this poll will be very important. He said, 'Please vote carefully.'
Photo: Twitter/Elon Musk.
Twitter tweeted a message on its official account on April 1, saying that it is working on the much-awaited 'Edit' feature. When asked if this was a joke, the company said, 'We can't confirm or deny this, but we can edit our statement later.'
Musk has bought stake in Twitter
On Monday, Elon Musk, owner of companies like Tesla and SpaceX, bought a 9.2 percent stake in social media company Twitter. Following this news, Twitter shares jumped up to 28% in pre-market trade.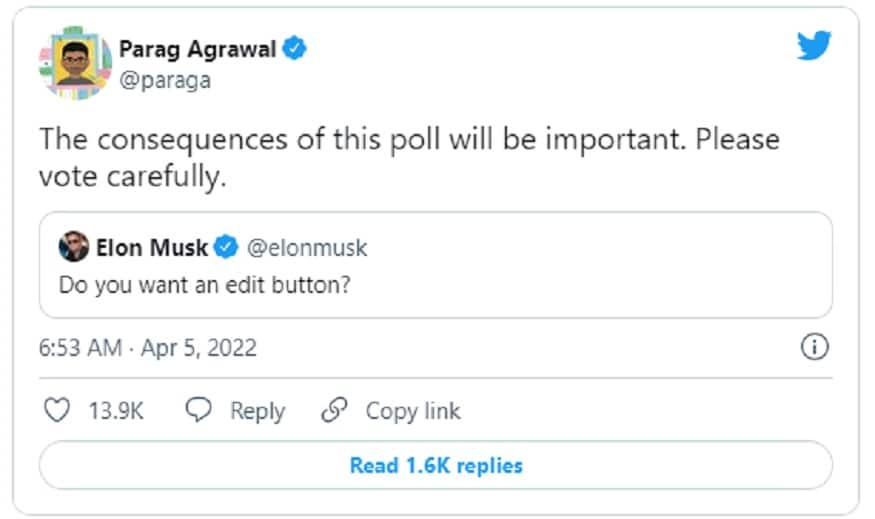 Twitter/Parag Agrawal.
Twitter said that Elon Musk has bought a passive stake in Twitter through one of his trusts. Passive stake means that the shareholder does not interfere in the day-to-day functioning of the company and invests only keeping in mind the long-term benefits from the shares