"Chinese Automobiles" studied the current websites of auto companies and official price lists and collected all the current discounts for new cars of Chinese brands in Russia.
The resource clarifies that it is better to check the exact prices directly with official dealers and distributors. However, in general, this information allows you to evaluate which cars are available today at good prices.
"Direct discount" in the tables means the amount of discount that the car companies promise to give the buyer without any additional conditions. "Maximum benefit" – the maximum amount of the discount that can be obtained if all the conditions of the car company are met.
The maximum discount of 740 thousand rubles is available when purchasing Exeed VX, in addition, Chery Tiggo 8 Pro Max can be bought at a discount of almost half a million rubles, and Geely Tugella has a discount of 550 thousand rubles.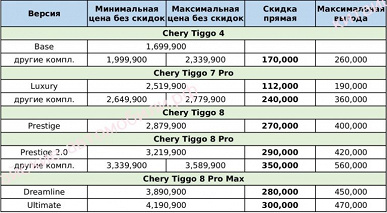 The data is current as of September 20, 2022. The other day we reported that a huge SUV Haval H9 has already fallen in price in Russia by 1 million rubles since spring.