MediaTek today introduced not only SoC Dimension 1050, which is the company's first platform to support both mmWave 5G and sub-6GHz. More affordable solutions were also announced today.
The first is called Dimensity 930. This is a somewhat strange SoC, if only because it is similar in its parameters to Dimensity 920 and Dimensity 900, but, despite the higher serial number, the frequency of its cores is lower. More specifically, there are two Cortex-A78 cores at 2.2GHz and six Cortex-A55 cores at 2GHz. For Dimensity 900 and 920, the frequency of the older cluster is 2.4 and 2.5 GHz, respectively. That is, the processor of the new platform is simply slower.
But the graphics subsystem here is completely new. This is a certain IMG BXM-8-256 GPU, and we have never seen it in smartphones before. What this GPU is capable of is still completely unclear, but it will be more interesting to find out.
It is also worth noting support for UFS 3.1 and LPDDR5 memory, cameras up to 108 megapixels, video shooting in 4K at 30 fps, Wi-Fi 5, Bluetooth 5.2 and screens with a resolution not higher than Full HD +, but from 120 Hz. It remains to add that the platform is manufactured using the 6 nm process technology.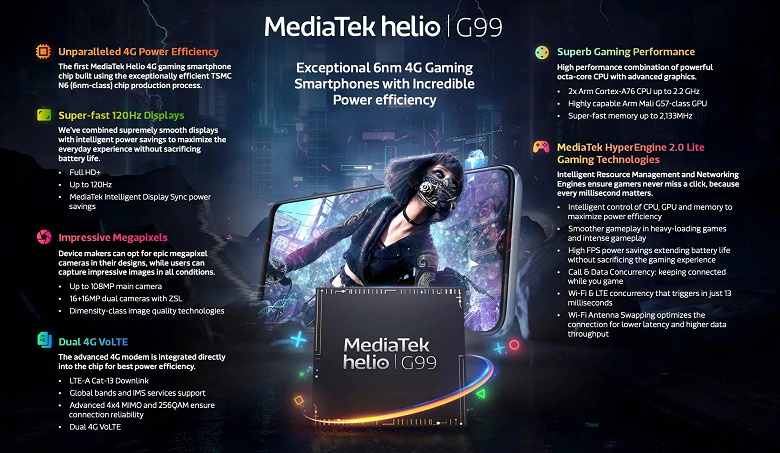 As for the second platform, this is Helio G99. Since this is a solution from the Helio line, there is no 5G support here. This platform is even more similar to the Helio G96 than the Dimensity 930 is to the 920.
Here are the same two Cortex-A76 cores, only with a frequency of 2.2 GHz versus 2.05 GHz, six Cortex-A55 cores with a frequency of 2 GHz and a Mali-G57 MC2 GPU. But more important is the transition from 12 nm to 6 nm, which makes the new platform much more energy efficient. In addition, now it is not inferior to modern inexpensive Qualcomm solutions.
As for the rest, Helio G99 supports UFS 2.2 memory, LPDDR4X, 120Hz Full HD+ screens, Wi-Fi 5 and Bluetooth 5.2.
The first smartphones with Dimensity 930 will be released in the second quarter, and Helio G99 devices will appear in the third.