Huge 6-meter SUV Dongfeng Warrior M20 turned into an extreme camper. And this is probably one of his best incarnations.
The full name of the new version is Dongfeng Warrior M20 Antarctic 4WD Off-Road RV. As far as it is suitable for conquering the Antarctic expanses, but Dongfeng claims that the car is quite suitable for life at an altitude of 4.5 km.
The off-road capabilities of the camper are exactly the same as those of the SUV: it is able to overcome vertical obstacles up to 40 cm high, the fording depth exceeds 800 mm, the entry and exit angles are, respectively, 33 ° and 36 °.
The power plant has not changed either – it is a Dongfeng Cummins diesel engine with a volume of 6.7 liters and a power of 320 hp. The drive is permanent all-wheel drive, the gearbox is a 6-speed automatic. From the new data – the volume of the fuel tank: it is 140 liters! So the power reserve of such a camper is decent even despite the large engine size.
There is no interior like an SUV: only the front row of seats remains, capable of accommodating three. But there is plenty of room in the back. There is a bed measuring 2025 x 1350 mm, and a dining group (it can be turned into sleeping places), and a kitchenette. From the equipment there is a refrigerator, a TV and even a washing machine (you don't have to wash clothes in a stream in the mountains). Separate "room" – with dry closet and shower.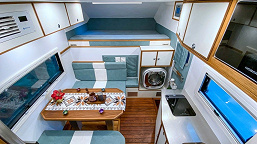 Why not an ideal option for traveling around Russia? But first, the car must be officially presented in China itself. And, of course, name the prices.