Huawei is the undisputed market leader in foldable smartphones in China. The company's share is an impressive 53.2%, although it has declined slightly over the past year.
The low-cost foldable smartphone Huawei Pocket S, which was released on November 10, is reported to be selling well. It costs only $840, which is much less than competing solutions, while offering a compact body, stylish design and a good camera. The emphasis is on the female audience.
According to statistics from CINNO Research, sales of foldable screen mobile phones in the Chinese market totaled 723,000 units in the third quarter of 2022, up 114% from the same period last year.
Samsung's market share for the same period was 20.5%, down 16.1% from the third quarter last year. Xiaomi's market share, which ranks third, was 9.0%, up 5.8% year-on-year.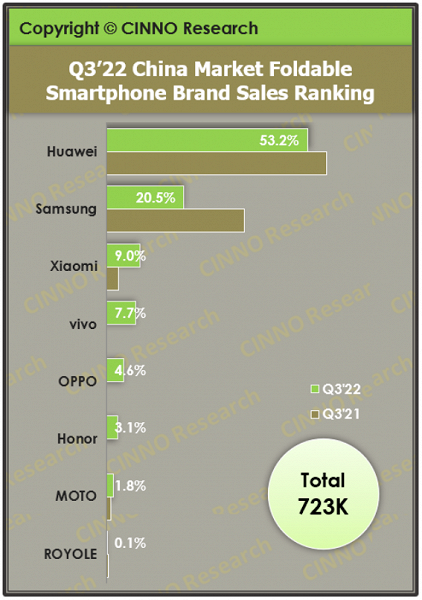 Oppo and Honor, which entered a new market for themselves, took 4.6 and 3.1%. The share of Moto is 1.8%. Royole, which released the first commercial folding screen smartphone a few years ago, has just 0.1% of the Chinese market.