Gurugram: Electric Car Charging Station Alektrify NHEV: Efforts are on to promote electric mobility in India. Just as people go to petrol pumps to get petrol and diesel in their vehicles, in the same way, electric car charging stations are being built everywhere to charge their electric cars quickly. The National Highway for Electric Vehicles (NHEV) in Sector 86 of Gurugram this week broke all the old records after the first largest charging station in a record time of 30 days in the Ease of Doing Business event. India's largest charging station Where 1000 electric cars can be charged in 24 hours.
The bat and bat of the people of Gurugram
In this way, Gurugram has become the first city in the country to have two largest charging stations. Earlier in January 2022, NHEV had started Alektrify station in Sector 52, which had a charging capacity of 575 cars in 24 hours. Now the new charging station has 75 AC, 25 DC and 21 Hybrid charging points. Giving information about the technical capability of the station and the safety standards used in practice, NHEV Program Director Abhijit Sinha said that it is an electrified station model for charging stations to replace petrol pumps across the country. These model stations have been set up initially to build the Jaipur-Delhi e-highway under the pilot project of NHEV.
Charging station to be built in Noida
Abhijeet Sinha, Ease of Doing Business Program Director and NHEV Project Director in additional charge, said that this is the second draft station in Gurugram, which has been built in a record time of 30 days, two more big stations of the same level in Noida in 60 days. Will be made inside, after which the work of drafting will be completed. 30 more stations on Jaipur-Delhi-Agra e-highway will be built in record time within 90 days of allotment.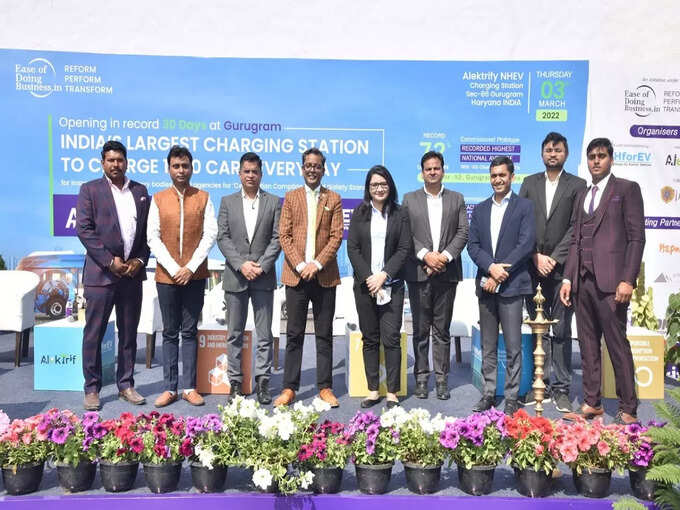 will get a lot of facilities
In his address at the event, Sudhendu Sinha, Senior Adviser, Infrastructure, Infra Integrated Connective Transport, NITI Aayog, said that NHEV has not only created the record of the country's largest station by making it in a record time of 30 days, but also these model stations. Developed an unmatched Ease of Doing business model to compete with petrol pumps by integrating battery-swapping and other consumer centric features in the times to come. Praveen Kumar, member of NHEV Working Group and Managing Director of Electrify station said that a total of 121 chargers have been installed at the station.