Core i9-13900K scale tests showed that the processor is really very productive, but in general it is not faster than the Ryzen 9 7950X, much hotter, but also cheaper. Now it's time to check out the Core i5-13600K, which is much more affordable with its official price of $320.
Recall that the CPU has six large cores, eight small ones and operates at frequencies of 3.5-5.1 GHz.
In the aggregate of a large number of various tests, the Core i5-13600K performed excellently. It's practically equal to the Core i9-12900K and only a couple percent faster than the $400 Ryzen 7 7700X. That is, relative to its direct competitor, the new Intel is faster, because the $ 300 Ryzen 5 7600X is about 15% slower, which is noticeable.

As already mentioned in the previous news, the choice of a modern productive processor is best done based on the specific tasks facing a particular user. However, if we keep talking about Core i5-13600K versus Ryzen 5 7600X, then even in rendering applications where AMD CPUs are traditionally strong, Intel CPUs are faster.
However, this is given to him, like the Core i9-13900K, at the cost of huge power consumption and heating for its class. In Blender, this CPU consumes almost 190W on par with the faster Ryzen 9 7900X. The same Ryzen 5 7600X requires only 100 watts, which is almost twice the difference with a 15 percent difference in performance.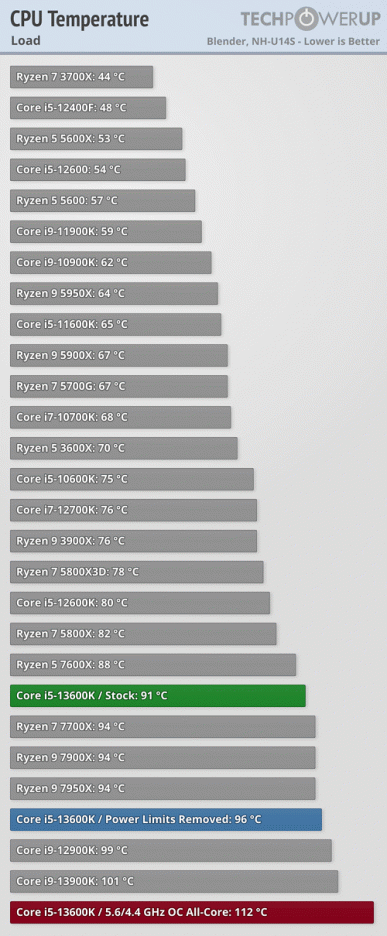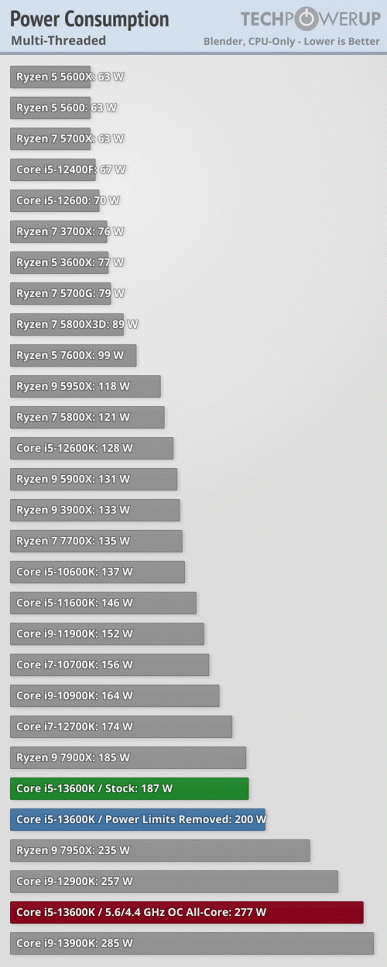 The average consumption in 45 applications is 104 W versus 60 W for a competitor and 80 W for an equal performance Ryzen 7 7700X.
In the same Blender, the new Intel heats up to 91 degrees, which is already close to the competitor. In games, the heating is in the range of about 70 degrees.
As a result, we can say that the Core i5-13600K can clearly bear the title of people's six-core, although adjusted for the fact that it actually has much more cores. It is faster than its direct competitor, performs at the level of the more expensive Ryzen 7 7700X, but consumes much more power, especially under heavy load.