The cost of swapping iPhones has always been higher than Android phones, and last year was no exception, new research from SellCell indicates. The top five smartphones that fell the least were only one Android phone, and the losing models fell in price by more than 80% in one year.
The iPhone 12 Pro Max fell only 31.7% in a year, the second and third places were taken by the iPhone 12 and iPhone 12 Pro, which retained more than 60% of the original price. Fourth place was taken by the iPhone 12 mini, which fell in price by 43.8% in a year. Closes the top five Google Pixel 5, cheaper by 49.8%.
And the second graph shows how much some Android smartphones have fallen in price.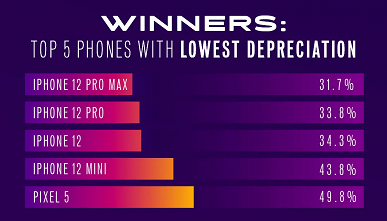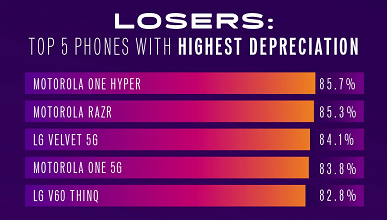 Nine out of ten phones traded last year were iPhones. The first place is occupied by the iPhone 11, and the iPhone 11 Pro Max was in fourth place. This was expected as people ran out of two-year contracts for these phones in 2021.
iPhone 12 Pro Max was in third place. 12-month contracts for the iPhone 12 expired in 2021, with the iPhone 12 line of smartphones retaining most of their value.
.